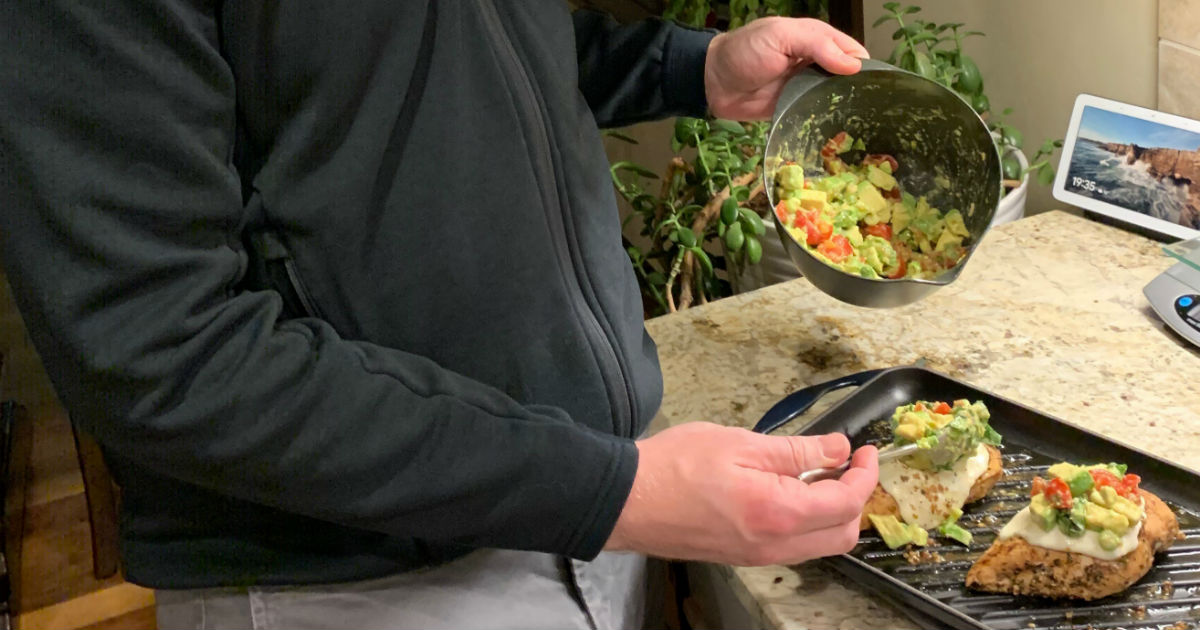 Dr. Matthew A. Schmidt, an interventional cardiologist with Aurora BayCare Cardiology, enjoys this heart-healthy chicken recipe.
"It's great because the chicken has a garlic balsamic marinade and it's topped with a nice avocado tomato salsa," Schmidt says.
It's a keto-friendly recipe that's loaded with protein and healthy fats. Keto, or ketogenic, is a low-carb diet in which you get more calories from protein and fats and fewer calories from carbohydrates.
Prep time: 10 minutes. Serves 4.
Ingredients
4 boneless skinless chicken breasts
2 to 3 cloves garlic, minced
2 tablespoons balsamic vinegar
2 tablespoons olive oil
1 tablespoon Italian seasoning
½ teaspoon salt
¼ teaspoon pepper
For Avocado Tomato Salsa Topping
4 slices fresh mozzarella cheese
1 cup plum or grape tomato, cut in half (any kind of tomatoes can be used)
2 avocados, diced
¼ cup fresh basil, chopped
Juice of ½ lemon
Dash of salt and pepper
Instructions
To marinate chicken: Place chicken, garlic, balsamic vinegar and seasoning in a large bowl. Stir until chicken is fully coated. Cover and place in refrigerator to marinate for 30 minutes or up to 24 hours.
To cook chicken: Heat a large heavy-duty pan or skillet to medium-high. Grill chicken 8 to 10 minutes per side or until cooked through. Top with mozzarella cheese and avocado tomato mixture and serve immediately.
To Make Avocado Tomato Salsa Topping: Do this while the chicken is cooking. Place diced avocado, diced tomato, chopped basil, juice of ½ lemon and dash of salt and pepper in a medium bowl. Gently stir to combine. Cover until ready to use.
Nutritional information per serving: 457 calories, 13g carbohydrates (5g net carbs), 33g protein, 31g fat, 8g saturated fat, 95mg cholesterol, 614mg sodium, 1,034mg potassium, 8g fiber, 3g sugar, 655 IU vitamin A, 21mg vitamin C, 190mg calcium, 2mg iron
Source: Keto Meals
Want to watch? Here's a 90-second video showing the preparation of the ingredients.