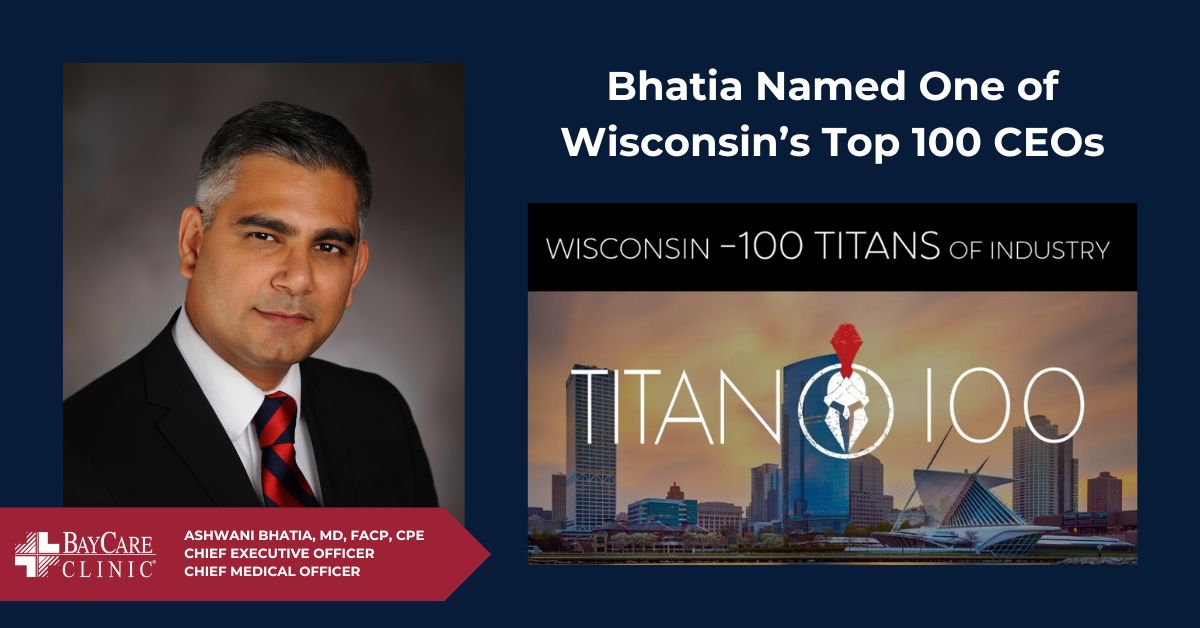 Ashwani Bhatia, MD, FACP, CPE, Chief Executive Officer and Chief Medical Officer of BayCare Clinic, has been chosen as a member of the 2024 Wisconsin Titan 100 as one of the state's top 100 CEOs.
Titan 100 is a national program recognizing public- and private-sector CEOs and C-level executives who demonstrate exceptional leadership, vision and passion in their field.
Bhatia will be honored at the Wisconsin Titan 100 annual awards celebration on January 18, 2024, at the Fiserv Forum in Milwaukee.
He joined Green Bay-based BayCare Clinic in 2019 and is an active liaison between leadership and medical providers. Before joining BayCare Clinic, he held numerous leadership positions with Aurora BayCare Medical Center in Green Bay, where he continues to practice internal medicine.
Bhatia is a certified physician executive and a member of the Vanguard group for the American Association for Physician Leadership. He also is an adjunct associate professor of medicine with the University of Wisconsin School of Medicine and Public Health, and a member of the UW-Green Bay Council of Trustees.
The 100 CEOs and C-level executives chosen for the 2024 Wisconsin Titan 100 represent healthcare, manufacturing, technology, construction and real estate, electric and power generation, education, banking and finance, professional services, and non-profit organizations. Together, their companies employ more than 263,000 people and generate more than $86 billion in annual revenues.