Bob Boerner, a guy who's always on the go outdoors, did not care for being stopped by lower back pain. Not at all.
"I was tied to the house and two or three chairs … that was absolutely terrible," he says, pausing ever so slightly to emphasize each loathsome word about being stuck indoors.
Boerner, who is in his late 60s, had bulging disks and vertebrae pressing against his sciatic nerve. That increasingly curtailed his mobility. He slept in one of those chairs for three months.
"This was a chronic problem that probably came from my lifestyle. I'm an outdoorsman. I coached for a lot of years. … My body took some wear and tear," says Boerner, a retired English and language arts teacher at Bay Port High School in Suamico.
"Within the last couple of years, I noticed I began to quit walking. When I did walk, my back hurt. It just got worse and worse, until I couldn't even stand."
Boerner sought help from Dr. Richard Harrison of BayCare Clinic Neurological Surgeons. He is board certified by the American Board of Neurological Surgery.
"Bob had a significant problem that was bothering him for quite some time," Harrison says. "His joints were overgrown, he did have some disks that were bulging out and one bone was slipping forward on another. We were able to employ some modern techniques with a fairly small operation to decompress and stabilize that."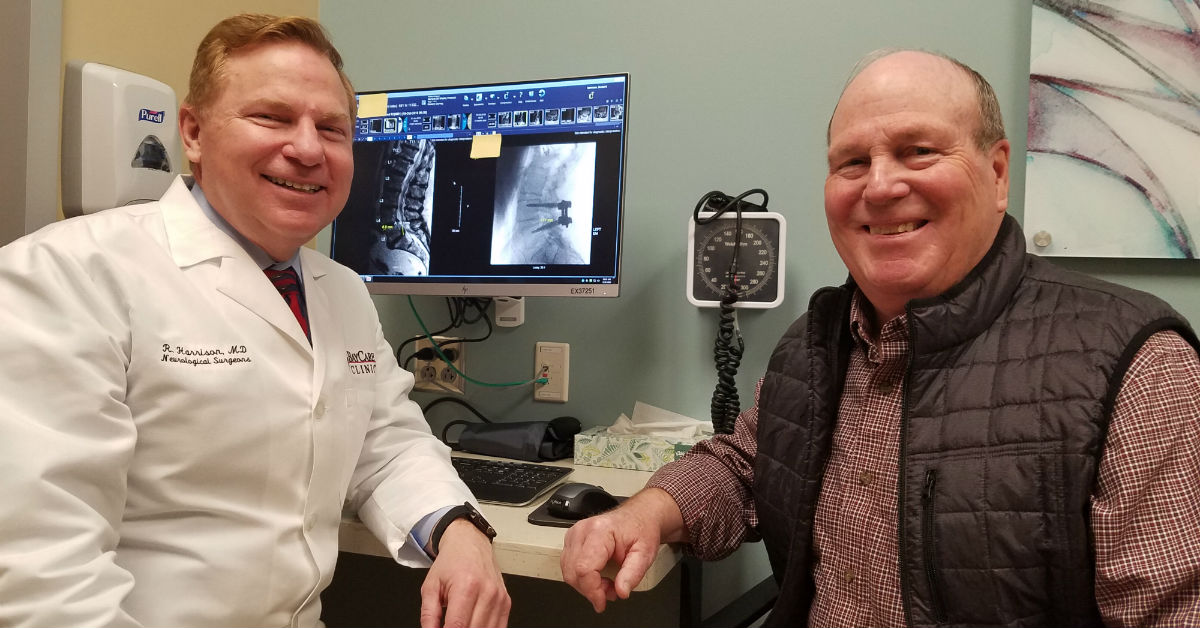 The procedure – posterior lumbar fusion, done at Aurora BayCare Medical Center in Green Bay – did the job.
"They put little spacers in my spine, in the vertebrae, and now they're going to hold the vertebrae in place where they're supposed to be, rather than squashed and chipped and pinching on the nerves," Boerner says. "The disks were worn down, so they made their own and placed them in and screwed them into place. I have four screws in my back, holding the disks in place."
Recovery was smooth.
"I woke up in recovery and thought 'I'm lying on my back. I haven't done this for three months.' It was like, instant," Boerner says. "I was up and walking the same day, that evening, in the hospital. I walked quite a bit the next day – with a walker, of course. I was out of the hospital the day after."
Boerner needed no physical rehabilitation after his procedure, which took place just before Thanksgiving in November 2018. Three months later, he had hip replacement surgery.
"I heal relatively quickly," says Boerner, who's also had both knees replaced. What's next? Oh, just a tune-up. Boerner had his first hip replacement surgery in 1996, and he's having some worn components replaced.
Now, he says, "I'm out almost every day with my buddies, we're hunting, we're fishing, we're cutting wood, we're doing whatever."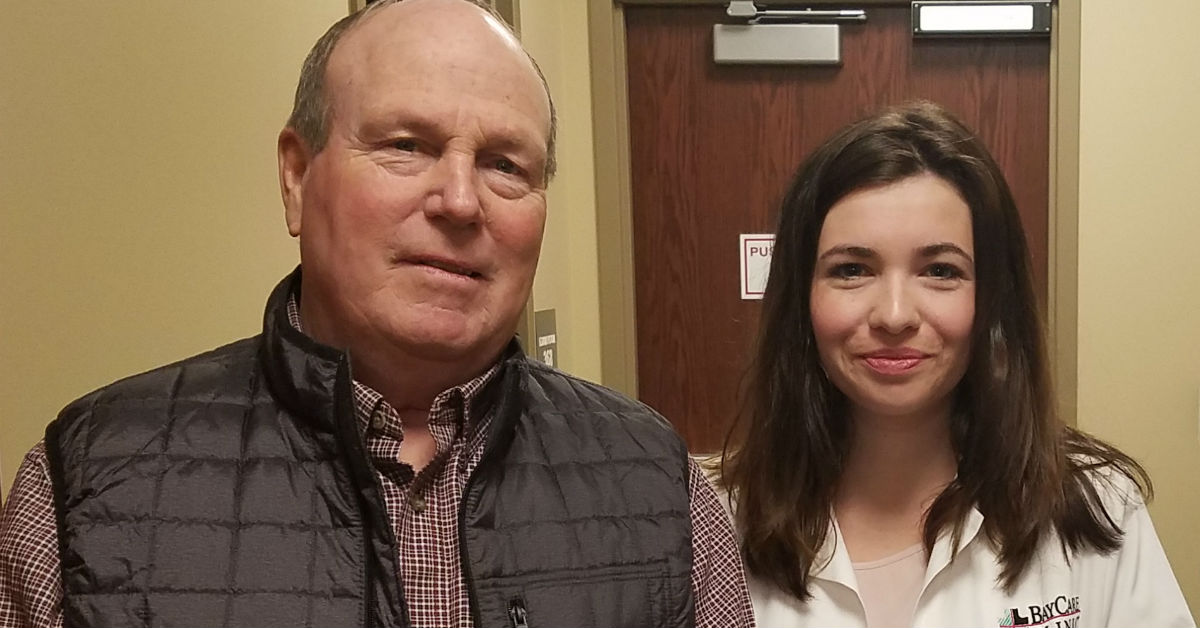 Boerner says he felt comfortable with Harrison and his staff, especially physician assistant Mikayla Meyer. She's one of his former Bay Port students.
"When we first saw each other, it was just kind of like a little flashback. Oh my gosh, this is the English teacher I had in ninth grade," she says. "It was really nice to be able to take what I've learned since that time and give back to him."
Aurora BayCare Medical Center is the first and only hospital in Wisconsin to receive the DNV GL Healthcare Spine Surgery Program Certification.
"The spine certification program goes through and looks at the comprehensive nature of the program," Harrison says.
"We have neurologists, we have monitoring that we do with the surgeries, we have extensive therapy – both physical and occupational therapy that's important in patient recovery – in addition to very experienced surgeons, dedicated neuroradiologists and the latest equipment.
"Here, we have more than 160 years of experience with the most spine surgeons in the area. We try to emphasize doing the right size surgery. In other words, not doing an overly aggressive surgery. We try to get people back to their lives as quickly as possible."
Boerner wants others with the same problem to get back to their lives, too.
"Don't wait as long as I did. Absolutely, don't wait. Because it just gets worse. It doesn't go away," he says. "I was sure glad to get done what I got done when I did. I wish I would have done it a lot sooner."