If you saw Brenda Fritz on TV during the summer of 2022, praising a BayCare Clinic orthopedic surgeon for helping her return to half-Ironman competition, we have an update.
Between training and competition, she's accomplished a lot since you last saw her. She's conquered half-Ironman courses – swimming 1.2 miles, biking 56 miles and running 13.1 miles – three times.
Fritz was second in her age group and eighth among women in the 2022 Ironman 70.3 Wisconsin in Madison on September 10, a top-100 finisher in 4 hours, 57 minutes, 33 seconds.
Fifth in her age group and 12th among women in the 2022 St. Jude Ironman 70.3 Memphis in Tennessee on October 1, a top-100 finisher in 5:12:23.
Third in her age group and 19th among women in the 2022 Ironman 70.3 Ohio in Sandusky on July 24, finishing in 5:06:35.
None of that is possible, Fritz says, without the care she received from Dr. Jon Henry of Orthopedics & Sports Medicine BayCare Clinic.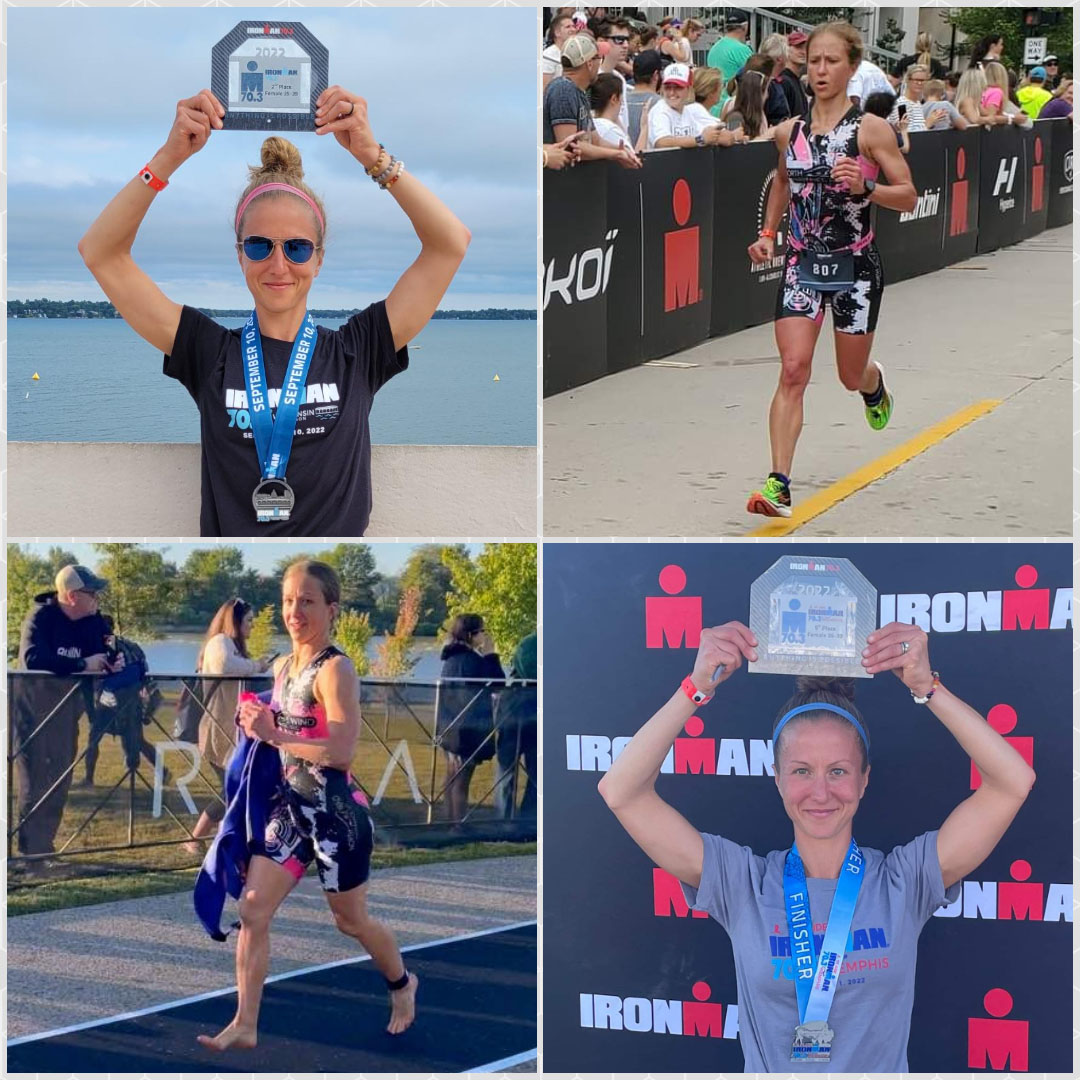 Fritz, who's in her late 30s, wiped out while snowboarding with her kids at Granite Peak near Wausau in February 2021. She hit her right hip and knee while going over a tube. She immediately knew it didn't feel right.
Fritz knew because she grew up playing competitive soccer through college, then transitioned into long-distance running, including full and half-marathons, before a friend asked her to join a half-Ironman relay team.
"It's so fun to train and push yourself to the limits in training and then go out there on the day and just see what you can do," she says.
Given that mindset, Fritz continued to train for half-Ironman competition. The hip pain lingered, then got worse. Fritz scaled back her training. She stopped running. She cut back on biking. Her hip wasn't getting better.
"That's when I knew I needed to go in," Fritz says. "I just knew I had to go in and see a specialist."
Henry, who is fellowship trained in sports medicine, performed Fritz's hip surgery in May 2021 after diagnosing several problems.
"Brenda's condition was complex," he says.
The most significant problem was a stress fracture in the femoral neck close to the hip joint. "If that worsens, it can really lead to a disastrous problem within the joint," he says.
Fritz also had a tear in the labrum, the soft tissue covering the hip socket. Several factors potentially caused or contributed to her injuries, among them the snowboarding crash, her anatomy, overtraining and a prior injury.
Henry inserted two screws, repaired her labrum and addressed her underlying cam and pincer impingement anatomy.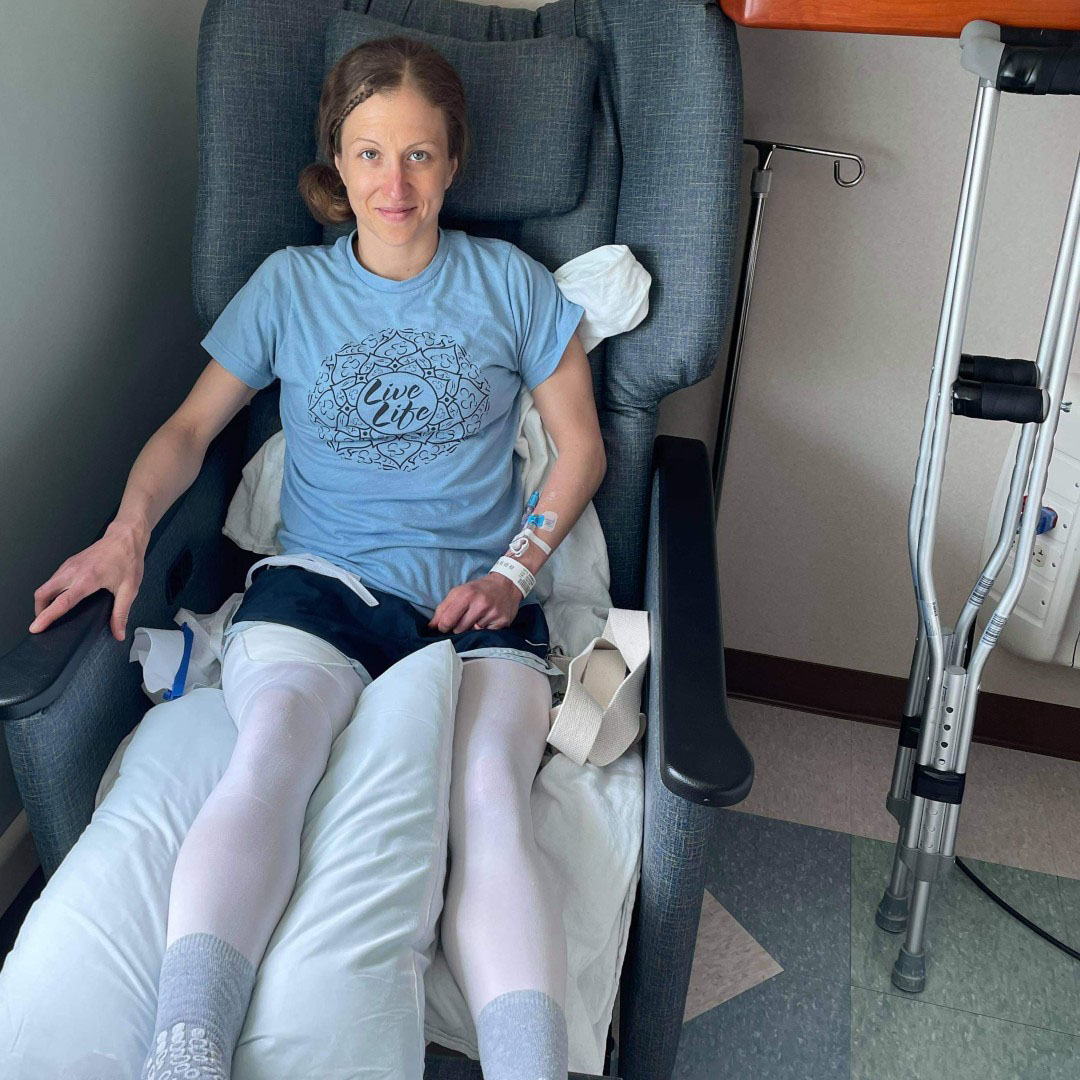 Surgery wiped out Fritz's plans to compete in three half-Ironman events in 2021, but she saw the bigger picture.
"It was a whole new experience being on the other side," says Fritz, who's a nurse at Aurora BayCare Medical Center in Green Bay. "I knew a lot about my care team. I knew I was in good hands."
Fritz was on crutches for three months after her outpatient surgery, then started physical therapy. That was the beginning of her comeback, the long road back to half-Ironman competition.
"My physical therapy was outstanding," she says. "My PT taught me so much that I could take with me."
Fritz took away plenty. A year later, she finds herself "stronger now than I was prior to the injury."
Stepping triumphantly onto the medal stand at half-Ironman events in 2022 is proof.
"Listen to your body," Fritz urges other injured athletes. "Seek professional help earlier rather than later."