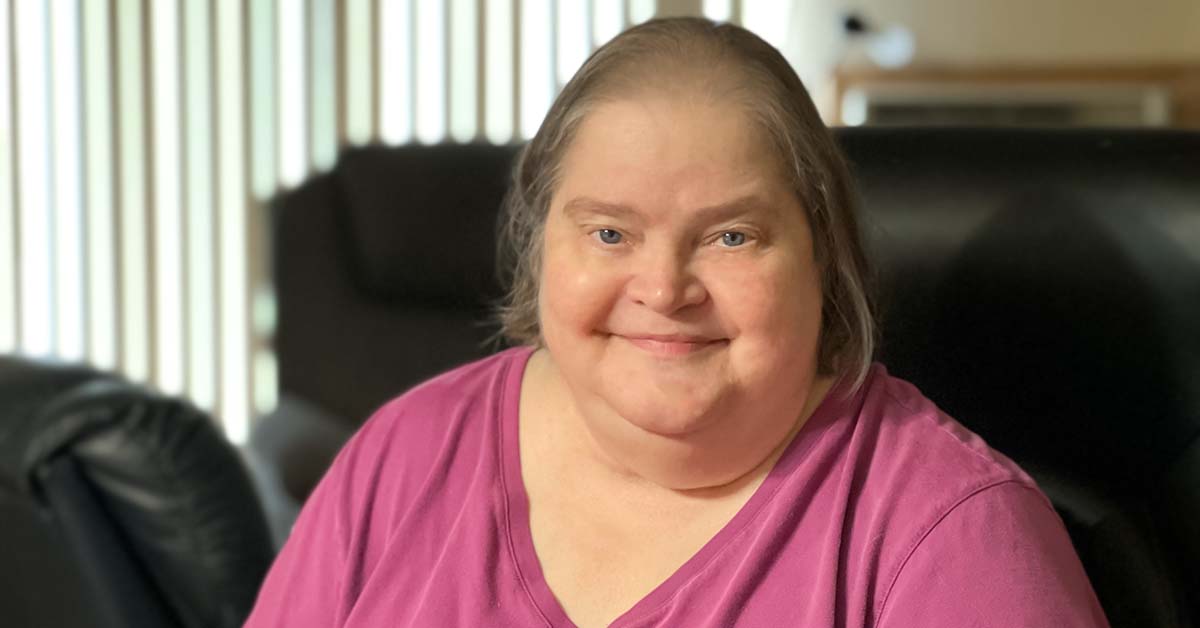 "I don't think I would still be alive here today if it wasn't for the CHF clinic."
That's a sentiment shared by Deborah Nightingale. She has congestive heart failure and is a patient at the Comprehensive Heart Failure Clinic at Aurora BayCare.
Nightingale, who moved from Bangor, Maine to Green Bay, Wisconsin in 2018, has been treated for congestive heart failure since 2017.
She also has sarcoidosis, a disease that causes inflammation, usually in the lungs, skin or lymph nodes.
"It's like your autoimmune system run amok," Nightingale says. "It starts attacking your organs and, you know, there's no cure for it."
Congestive heart failure occurs when the heart muscle doesn't pump blood as efficiently as it should. As a result, the heart doesn't pump enough oxygen and nutrients to meet the body's needs. This, in turn, leads to fluid buildup in the arms, legs, ankles, feet, lungs or other organs, causing the body to become "congested."
The condition affects about 6.2 million adults in the United States, according to the federal Centers for Disease Control and Prevention.
Before leaving Maine, Nightingale sought suggestions from her health care provider for continuing her cardiac care once she settled in Green Bay. She was advised to see Dr. William Witmer, a cardiologist with Aurora BayCare Cardiology.
Coincidently, Witmer practiced at a private cardiology group in the Bangor, Maine area before he, too, moved to Green Bay in the early 2000s, "so they recommended Dr. Witmer," Nightingale says.
Nightingale, who is in her mid-60s, quickly connected with Witmer and the specialists at Aurora BayCare's comprehensive heart failure clinic where initially she was a frequent visitor. Deborah Nightingale didn't consider any of her symptoms to be the result of congestive heart failure despite having been a nurse for 37 years.
"I was seeing them, like, every six weeks when I first came back here," she says.
The Comprehensive Heart Failure Clinic at Aurora BayCare helps those diagnosed with congestive heart failure manage their disease and lower the risk of further complications.
The clinic is multidisciplinary, consisting of in-patient care providers and out-patient specialists. These include cardiologists, cardiac rehab specialists, nurse practitioners, pharmacists, social workers and more.
Part of Nightingale's treatment included a CardioMEMS implant. This small device wirelessly tracks pulmonary artery pressure and heart rate. The device's sensor remotely sends pressure readings to a patient's clinical team. Changes in these readings may mean a patient's heart failure is worsening, allowing for early patient intervention, often before any symptoms appear.
Since the CardioMEMS implant, Nightingale's symptoms have improved greatly, she says.
"I've had this (implant) in place for over a year … I haven't gotten hospitalized for CHF, so it's wonderful. It's doing its job," she says.
Nightingale also has made lifestyle changes to help better manage her congestive heart failure, including eating a healthy diet and adding moderate exercise to her daily routine.
Eliminating salt from her diet also is vital, Nightingale says.
"You've gotta follow your no-salt diet and, you know, I've had to greatly adjust my diet so I don't eat out much, fresh fruits and vegetables," she says. "Just a tiny little bit of salt, I react to, so I even bake my own breads and things so I can eliminate the salt."
Having a positive attitude is an important part of managing her congestive heart failure, she says.
"Yes, I have more than one incurable disease, but you know, life is what you make it," she says. "Don't think of how long you're going to live, just live each day as it comes. … Your time is your time."