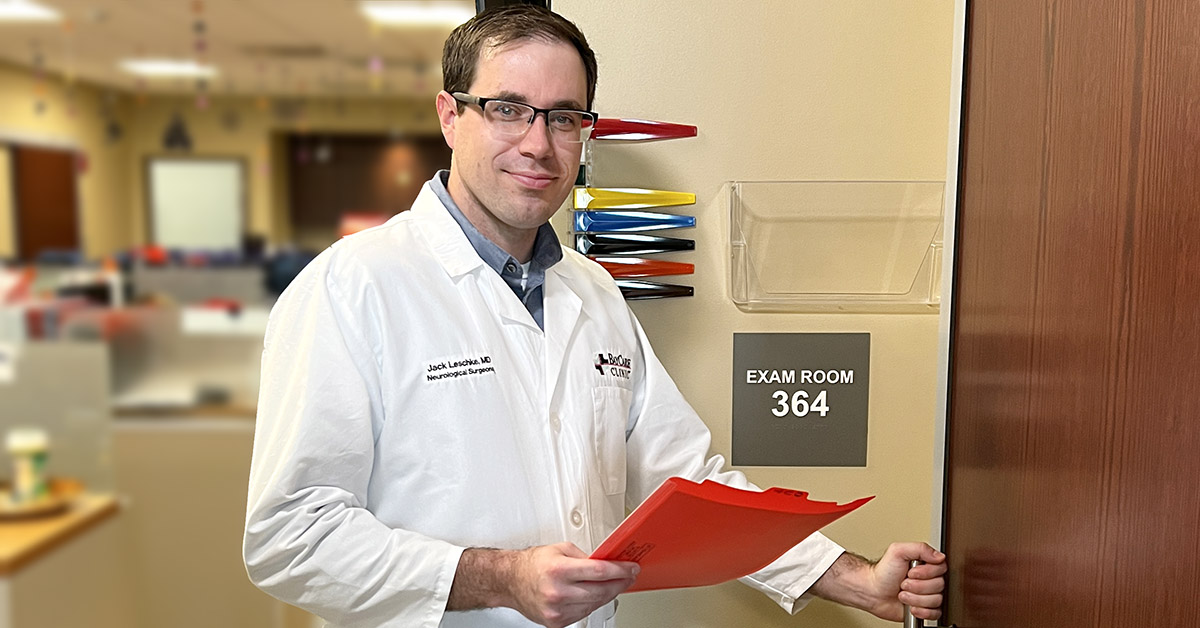 New spine surgery techniques are often better for patients
Spine surgery and the term "minimally invasive" may seem like an unlikely pair, but not for Dr. Jack Leschke and some of his colleagues at BayCare Clinic Neurological Surgeons.
Minimally invasive spine surgery seeks to accomplish the same outcomes as more traditional surgeries, but in a way that makes recovery easier for many people.
"With this technique, we focus on smaller incisions and avoid cutting directly through muscle," he says. "This means less ligament detachment, less bone removal and less damage to surrounding tissue."
The idea, according to Leschke, is that surgeons can accomplish the same outcome by getting to the problem area without cutting through muscle or using a large incision.
Traditional spine surgery can require three to six months of recovery.
"If you eliminate the components that require longer recovery – muscle healing, blood loss, longer time spent under anesthesia," Leschke says, "it becomes a different conversation for many people."
Return to normal activity faster with minimally invasive spine surgery
Spine surgery is not something to be taken lightly, but according to Leschke, people may have misconceptions about what it's like today.
"People shouldn't have the same fears (as in the past)," he says. "Advancements in technology have been focused on patient outcomes, decreasing tissue damage and surgical stress. It's been my experience that the majority of people really can bounce back quickly."
Minimally invasive spine surgery can be low risk and high reward for many people, Leschke says.
Advantages of minimally invasive spine surgery
Smaller incisions
Less tissue destruction
Less blood loss
Less pain/pain meds
Very low risk of infection
Potential for shorter hospital stays
Don't suffer with back and leg pain, Leschke says.
"So often, people are so worried about surgery they sometimes live with excruciating pain for years," he says. "If back pain is causing you to not be able to sleep or it's ruining your quality of life, there are many options."
While minimally invasive approaches have for years been the norm in other surgical fields, it's relatively new to spine surgery, especially in our region.
"It's proven technology. I feel good about offering this option to people," he says. "It's a great alternative for a lot of people, and I can see the relief in their eyes when I'm able to suggest it."