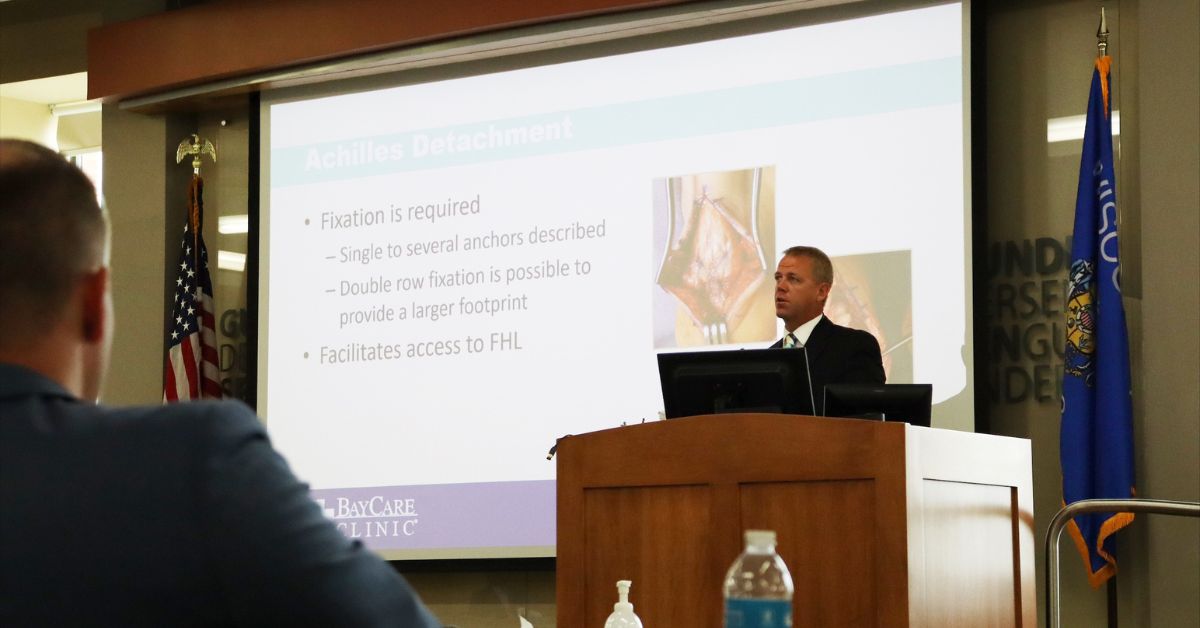 The recent Wisconsin Foot and Ankle Symposium held in La Crosse was a gathering of some of the brightest minds in the field of podiatry and orthopedics. Among the distinguished speakers at the event was Dr. Jason George DeVries, DPM, a renowned expert in his field and a valuable member of the Orthopedic & Sports Medicine BayCare Clinic in Manitowoc. 
Dr. DeVries took the stage at the symposium, hosted in collaboration with the Gundersen Health System, to share his extensive knowledge and expertise on Achilles tendon surgery. His insightful presentation shed light on innovative techniques and recent advancements in the field, captivating the audience with his wealth of knowledge and experience. 
One of the highlights of Dr. DeVries' presentation was his groundbreaking research on fixation methods for Achilles tendon surgery, conducted in collaboration with Dr. Brandon M. Scharer, DPM, from Orthopedics & Sports Medicine BayCare Clinic in Green Bay. This research has the potential to revolutionize the way surgeons approach this common and often complex procedure, leading to better patient outcomes and faster recovery times. 
Achilles tendon injuries are not uncommon, especially among athletes and active individuals. Therefore, the insights shared by Dr. DeVries and Dr. Scharer have the potential to positively impact the lives of countless patients who may require this type of surgery in the future. Their collaborative efforts represent a shining example of how healthcare professionals can work together to push the boundaries of medical knowledge and enhance patient care. 
Dr. Jason George DeVries, DPM, is not only an exceptional surgeon but also a dedicated researcher and educator. His commitment to advancing the field of podiatry and orthopedics is evident in his participation at events like the Wisconsin Foot and Ankle Symposium. By sharing his expertise and collaborating with fellow experts like Dr. Brandon M. Scharer, DPM, he is helping shape the future of Achilles tendon surgery and improving the quality of care for patients in Wisconsin and beyond. 
For a limited time, get free access and download of "No Loss of Strength After Insertional Achilles Tendon Reconstruction With Single-Anchor or Double-Row Repair" at ScienceDirect.com before November 3, 2023.