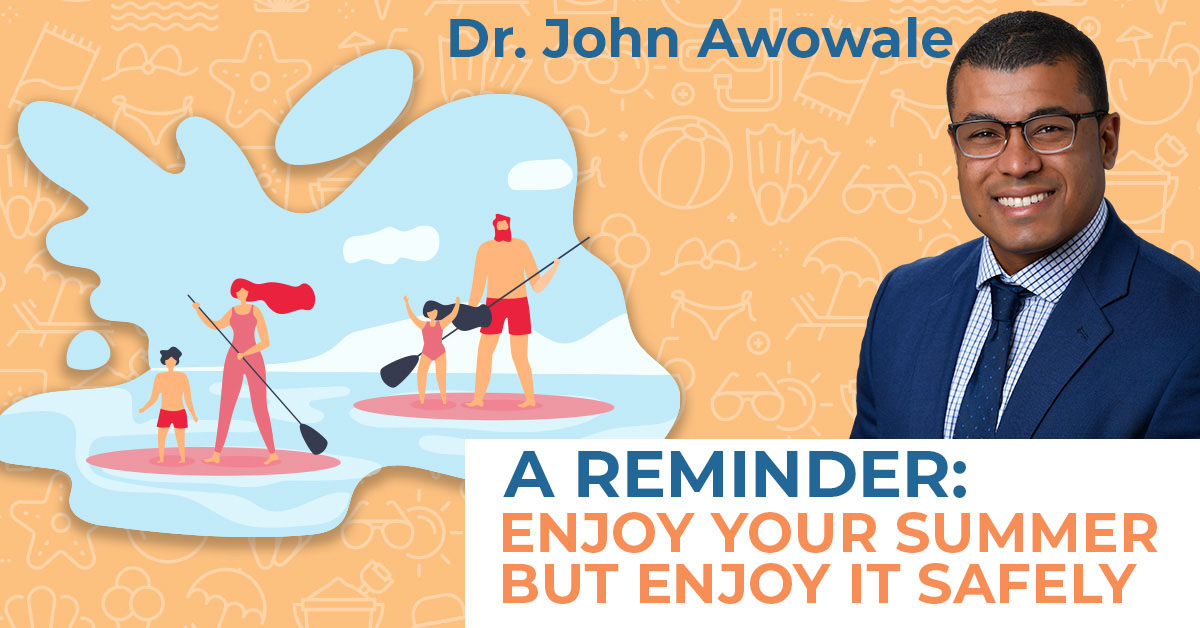 Warm weather is fleeting in Wisconsin. That's why many people will take advantage of the summer sun as long as they possibly can.
For Dr. John Awowale, orthopedic surgeon with Orthopedics & Sports Medicine BayCare Clinic, that's a great thing, as long as people are being safe.
"When it's summer in our area, many of us can be found outdoors running, walking, skateboarding, cycling, hiking, boating, swimming and so much more," Awowale says. "We routinely remind our patients and their family members how important physical activity is to one's health and well-being."
Physical activity keeps you limber and reduces the chance of a musculoskeletal injury. It's also great for mental health.
"It's important to safely enjoy the outdoors and your physical activity of choice," Awowale says.
Proper preparation is key to staying safe
Before heading out on a run or walk, do some warmups and stretches, Awowale says. Many common summer injuries are orthopedics-related and are the direct result of jumping into a physical activity without properly preparing the muscles and joints.
"Stretching before physical activity helps loosen the muscles and makes them resistant to the impact they will undergo," Awowale says. "That helps reduce the chance of injury. Also, remember to cool down when you are done with your physical activity."
Many of the outdoors activities we enjoy can be dangerous without proper equipment, he says.
"Plan to hit the half pipe at your neighborhood skatepark? Wear knee and elbow pads to help absorb the force of a fall and reduce the likelihood that you'll injure your joints or bones," Awowale says. "My colleagues in neurosurgery would also encourage use of a helmet to help reduce the likelihood of experiencing head or brain trauma."
4 outdoor safety tips to consider
Know your limits: If you're in pain during physical activity, stop! The pain could worsen if you continue.
Proper footwear: Skip the sandals when exercising or participating in a sport. Wear appropriate footwear.
Stay hydrated: The U.S. Department of Health recommends the average woman drink eight cups of fluids a day and men drink about 10 cups. Drink more water to replenish your fluids, especially when physically active in the summer sun.
Sun safety: Apply sunscreen all over and reapply as needed.
"We encourage you to get out and enjoy the remainder of summer to the fullest," Awowale says. "However, if an injury is interfering with your summer enjoyment, visit your orthopedics and sports medicine provider as soon as possible.
"Injuries can occur regardless of the precautions you take. The sooner they are evaluated and treated, the better your chances are of getting back out there and enjoying the remainder of summer."