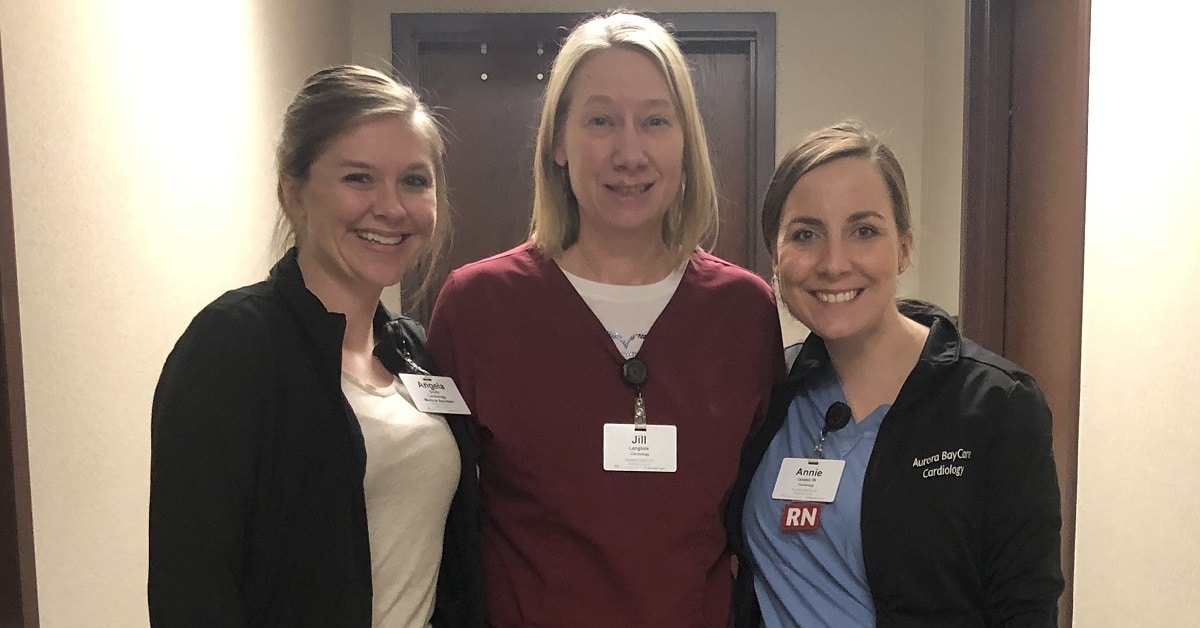 A mobile app and support from one another motivated three Aurora BayCare Cardiology employees to lose weight and change their lifestyles.
Angela Smith, medical assistant; Jill Langlois, certified medical assistant; and Annie Campbell, registered nurse; started their weight loss journey in January 2018.
In one year, they have lost over 100 pounds combined.
They used the app Lose It! The app tracks your daily calorie intake. After submitting your height, weight, and weight loss goals, users enter everything they eat or drink each day as well as any exercise from that day. The group decided to weigh in once a week.
Angela first heard of the app from a patient and was excited to try it and share it with her colleagues.
"I looked it up and wanted to see what it was all about. I was at that point where I wasn't keeping up with my kids the way I wanted to. I wasn't happy when I looked in the mirror," she says.
A family history of heart disease also pushed Angela to lose weight.
"It's really eye-opening," she says "Since I have such a strong family history of early onset coronary disease, any risk factors I can help to decrease is considered a must."
For Jill, this app was the nudge she needed to lose weight.
"I've been talking about doing this for the longest time," Jill says. "It seemed like every January, I'd want to start again … I don't know what made me do it this time because I'd been talking about it for so long. But, when I did the app and started seeing the weight come off, I started holding myself accountable."
For Annie, the app helped her start making better choices when it came to what she was eating. She also started holding herself accountable with exercising.
"I have three little boys at home … They're all in sports. You name it, they do it," Annie says. "I wanted to get more active and do whatever I needed to do to prevent chronic disease."
Before they started using the app, Annie had already been making more mindful choices, but said the app aided in her weight loss.
"It surprised me. A lot of the things I thought were healthy actually weren't. It really taught me portion control," she says. "I really made changes with my exercising. I joined a class that I do with some girls from home. I also bought a cycling bike, so I can do classes at home."
After a year of using the app, all three have lost weight and can say they feel happier and healthier.
Jill lost 64 pounds, Angela lost 34, and Annie lost 18. They've exceeded weight loss expectations and plan to keep the weight off.
"I'm still using the app. I've logged every day since I started," Jill says. "It's not easy, I'm not going to lie. At first, it was almost unbearable. I was not an exerciser before. Before this, being on my treadmill for 15 minutes seemed like forever. Now, if I don't have anything going on, I'm on my treadmill for almost an hour."
The trio has also signed up for a half marathon in May to continue to motivate themselves.
"The app was a lot of help, especially with exercising. If you would've asked me a year and a half ago if I was going to run a half marathon, I would've thought you were nuts," Angela says.
They agree that doing this together was one reason they were so successful.
"We weren't alone and didn't feel as obligated to give into things," Annie says. "We used to order out a lot here. Now, we trade recipes and share what works. It helped to exchange ideas and bounce ideas off each other."
They also agree that this helps them talk with their patients and encourage healthy lifestyles.
"I was telling people to eat healthy and exercise, but I wasn't really doing it myself," Angela says. "Now that I am, when patients ask for pointers, I can say that I went through this journey and can help. It's rewarding to be able to share that with other people."