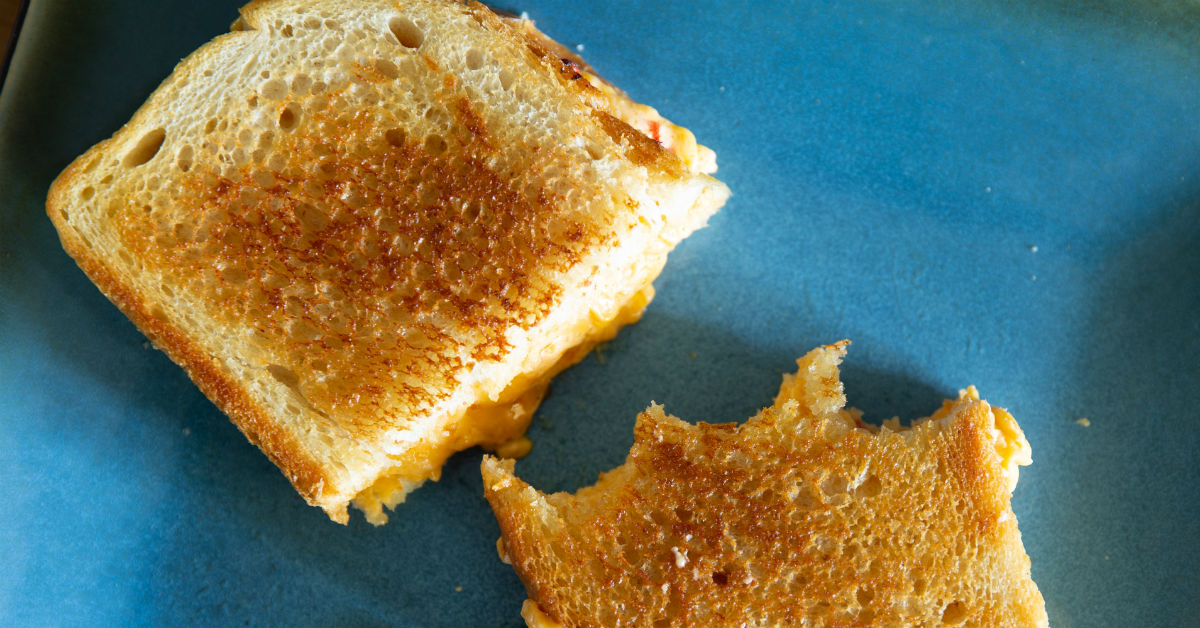 If you've been sticking around the house lately – and who hasn't been, given the coronavirus outbreak? – things go easier when you keep things simple at lunch time. Do you want a grilled cheese?
April is National Grilled Cheese Month. Few things are simpler to make. Here are two simple recipes for healthy grilled cheese sandwiches, plus one that's just plain fun.
Prep time: 11 minutes. Makes 4 sandwiches.
Ingredients
8 slices bread (whole-wheat or multigrain)
8 teaspoons light butter (light or reduced-fat) or 8 teaspoons margarine (light or reduced-fat)
6 ounces low-fat cheddar cheese (nonfat or reduced-fat) or 6 ounces American cheese, thinly sliced (nonfat or reduced-fat)
Butter cooking spray (if desired)
Directions
Arrange bread slices on flat surface. Spray 1 side of each slice with butter cooking spray or spread with 1 teaspoon of the light butter or reduced-fat margarine. Prepare four sandwiches with the cheese inside.
Heat large nonstick skillet or griddle over medium-low heat and place sandwiches in it. Cook for about 3 minutes on each side, or until bread is toasted and cheese is melted. Cut each sandwich in half. Serve hot.
Nutritional information
259.6 calories, 10.7 g fat, 5.7 g saturated fat, 16.1 g protein, 26.6 g carbohydrates, 3.9 g dietary fiber, 19.2 mg cholesterol, 598.9 mg sodium.
Source: Food.com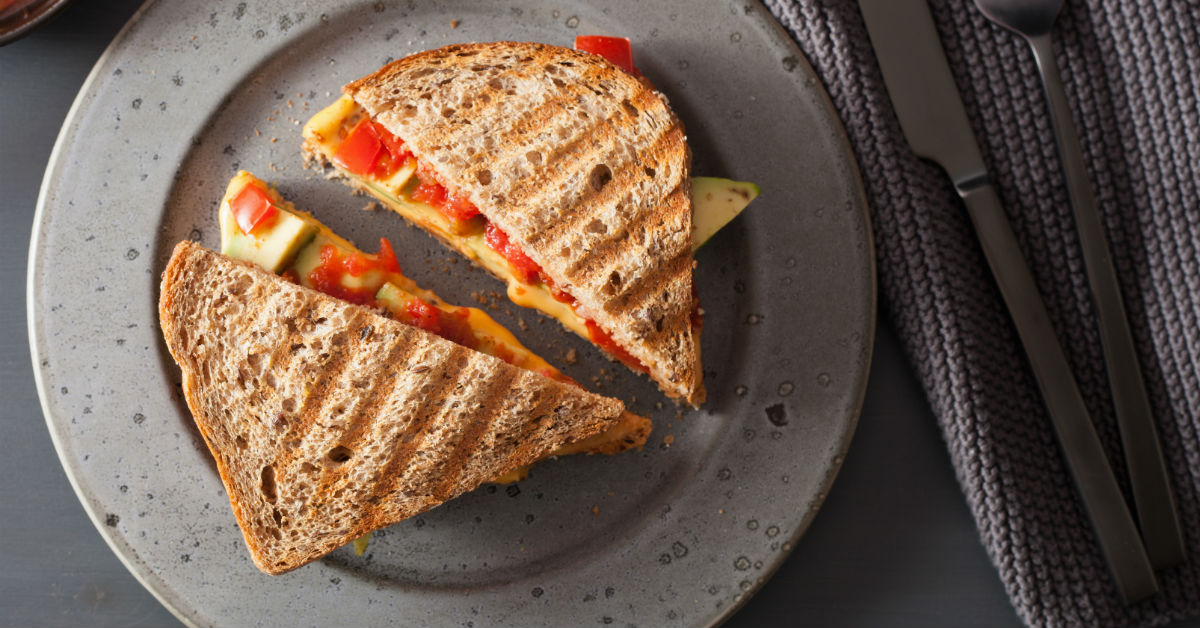 Prep time: 24 minutes. Total time: 44 minutes. Makes 4 sandwiches.
Ingredients
1 tablespoon olive oil, divided
4 plum tomatoes, halved and seeded
2 garlic cloves, unpeeled
6 to 8 fresh basil leaves
Dash of kosher salt
Dash of black pepper
4 teaspoons canola mayonnaise
2 ounces 1/3 -less-fat cream cheese
4 ounces 2% reduced-fat sharp cheddar cheese, finely shredded (1 cup)
8 (1-ounce) slices whole-grain bread
Cooking spray
Directions
Heat oven to 400 F.
Combine 1 teaspoon oil, tomatoes and garlic on a baking sheet. Bake for 20 minutes. Remove skins from tomatoes; discard tomato skins. Squeeze garlic to extract pulp; discard garlic skins. Combine tomatoes, garlic pulp, basil, salt and pepper in a mini food processor; pulse 10 times.
Combine mayonnaise and cream cheese in a medium bowl. Add cheddar, stirring well to combine (mixture will be thick). Spread one-fourth of cheese mixture (about 2 tablespoons) over 4 bread slices; top each with about 1½ tablespoons tomato mixture and 1 bread slice. Lightly coat outsides of sandwiches with cooking spray.
Heat a large skillet over medium heat. Add 1 teaspoon oil; swirl to coat. Place sandwiches in pan; cook 3 minutes or until lightly browned (do not flip). Remove sandwiches from pan. Add remaining 1 teaspoon oil; swirl to coat. Turn sandwiches over and add to pan; cook 3 minutes or until lightly browned and cheese melts. Cut in half. Serve immediately.
Nutritional information
312 calories, 15.1 g fat, 6 g saturated fat, 17 g protein, 27 g carbohydrates, 5 g fiber, 26 mg cholesterol, 2 mg iron, 590 mg sodium, 345 mg calcium.
Note: The photo with this recipe shows a variation that includes avocado slices.
Ingredients
8 slices of cinnamon swirl bread
¼ cup apple butter
1½ ounces shredded white cheddar cheese (about 1/3 cup)
Cooking spray
½ cup vanilla fat-free frozen yogurt
Directions
On each piece of cinnamon swirl bread, spread ½ tablespoon of apple butter on one side. Evenly divide the cheese amongst 4 slices, topping with the remaining bread to form 4 sandwiches.
In a grill pan over medium-high heat, toast the sandwiches on both sides until the cheese is thoroughly melted. Top two of the warm sandwiches with the frozen yogurt, topping each with the remaining sandwich. Cut each in half and serve.
Nutritional information
302 calories, 8.6 g fat, 3.2 g saturated fat, 331 mg sodium.
Source: MyRecipes.com