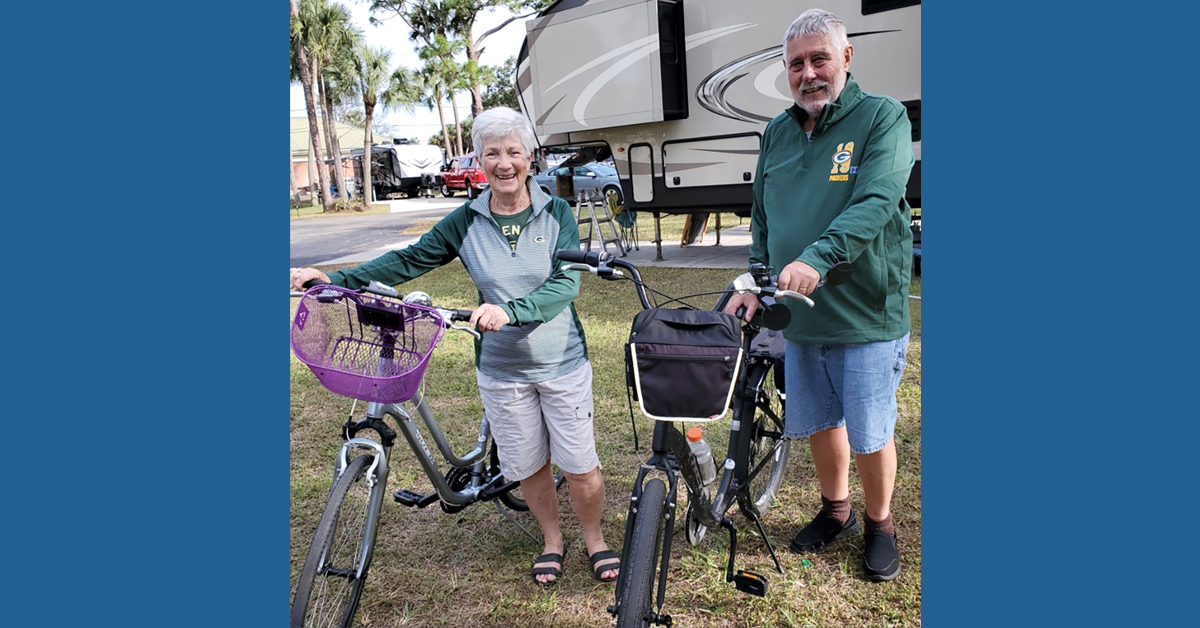 John Schnaubelt's general practitioner told him he'd eventually need replacement surgery to ease the years-long, crippling pain in his right hip.
But finding a surgeon to tackle his surgery due to a unique underlying health condition seemed as though it, too, would be a years-long pain in the … hip.
That is, until Schnaubelt met Dr. Kirk Dimitris, an orthopedic surgeon with Orthopedics & Sports Medicine BayCare Clinic.
"I had hip problems for several years," says Schnaubelt, who is in his early 80s. "My GP doctor had told me I'm going to need replacement but before I got a replacement, I could try the infusions."
During an infusion, medications are delivered directly into the problematic area – in this case, Schnaubelt's hip – to reduce inflammation. This can be done intravenously.
Initially, the infusion therapy worked. However, it soon lost its effectiveness, Schnaubelt says.
"It went south in a hurry," he says. "We figured, well, we'll get the hip replaced if infusions aren't gonna work anymore."
But there was a catch. Schnaubelt, who lives part of the year on a farm about three miles north of Lake Geneva, has a blood disorder called von Willebrand disease. People with the condition either have low levels of a protein that helps blood clot or the protein doesn't perform as it should.
He also has blockages in his anterior and carotid arteries.
The condition, combined with the other health problems, made it tough to find a surgeon to perform Schnaubelt's surgery.
Schnaubelt lives in Florida during the winter months. While there, he sought surgical help from a highly recommended orthopedic surgeon.
"He wussed out on it after he was gonna operate," Schnaubelt says. "He wanted to get a cardiovascular guy in because of the complications with me. The cardiovascular guy, he wanted to get somebody else in … ."
The orthopedic surgeon wouldn't operate on Schnaubelt due to lack of special blood testing services they'd need for Schnaubelt's von Willebrand disease.
"He recommended we go to the University of Wisconsin where they had all this stuff and the special facilities," Schnaubelt says.
Schnaubelt, and his wife Beth, returned from Florida early to meet with a surgeon at the University of Wisconsin.
"That doctor started out like the other doctor," he says. "He said, 'oh, you're a great candidate for hip replacement' until he starts to learn the complications and he backpedaled right out and said he didn't think he'd do it, wouldn't recommend doing it. He just recommended me living with the pain and pain meds."
That was unacceptable, Schnaubelt says, and it was disheartening.
"I was living on aspirins and ibuprofen. It was an ugly life and I'm not supposed to have aspirin with the von Willebrand's because of the bleeding. Very ugly. … I couldn't stand long enough to get a shower. It was an ugly life for four or five months."
A family member suggested Schnaubelt see Dimitris.
"I just remember his upbeat attitude," Schnaubelt says of meeting the BayCare Clinic orthopedic surgeon. "It lifted me up tremendously."
Dimitris understood the risks involved with Schnaubelt's hip replacement surgery, but tackled the procedure with confidence, Schnaubelt says.
"You know, he didn't pooh-pooh the complications but, you know, he figured he's gonna do it. It's gonna work out OK and he left me with his confidence in himself and confident that we're doing the right thing," Schnaubelt says.
Dimitris successfully performed Schnaubelt's right posterior total hip arthroplasty at Aurora BayCare Medical Center in Green Bay.
It's a procedure in which the surgeon makes an incision at the back of the hip near the buttocks. The incision doesn't cut into the abductor muscles, the major walking muscles.
Dimitris' surgical team also successfully managed Schnaubelt's von Willebrand disease without complication.
Schnaubelt offered high praise for Dimitris and his surgical team.
"Everybody there was so, so nice. So professional. So efficient. So helpful," he says.
He's back to performing several activities around the farm.
"It's about 100 yards from my house to my pole building," he says. "I couldn't go there and back to do anything. I couldn't get up and down a tractor."
That has all changed.
"I'm enjoying life and the fun stuff and my work stuff on the farm," Schnaubelt says. "I have my life back again and it just slowly, not quickly, but slowly just kept getting better and better and better and so I appreciated it more and more and more."