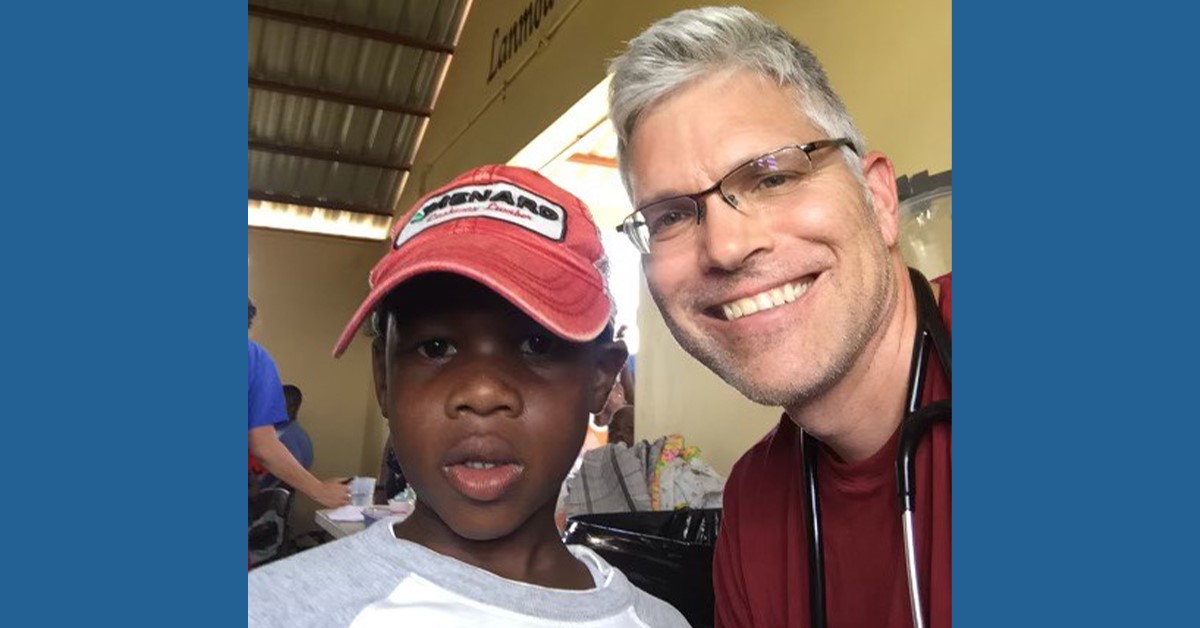 As a child, Cory Vogel frequently found himself visiting the emergency room. It's no wonder, as an adult, he ended up there on a more permanent basis.
"As a kid I was always in the ER getting stitches and breaking bones," Vogel says. "I fell out of a tree once and broke my arm. I fell out of a tree swing another time and broke my arm. I got into a big wheel accident and broke my arm."
Today, Vogel is an emergency medicine physician with BayCare Clinic. His frequent childhood trips to the ER served as precursor events for his career as an adult.
"With all the broken bones, I was interested in orthopedics and with all the ER visits, I was interested in ER. I was always interested as to what was going to happen and I always wanted to know for myself," Vogel says.
It also helped that he grew up in a family with a passion for medicine. His father was an obstetrician-gynecologist or OB-GYN, his aunt was a nurse, one of his six sisters is a radiologist, and another sister, Laura Vogel-Schwartz, is an emergency medicine physician with BayCare Clinic.
Vogel earned his medical degree from Loyola University Chicago Stritch School of Medicine in Maywood, Illinois. He completed his residency and underwent fellowship training in critical care medicine at Hennepin County Medical Center in Minneapolis, Minnesota.
It was a tough road but worth it, he says.
"It was the most I've ever worked in my life. We worked 120 hours a week. Those were the hours for residents back in the day. Now I think it's 80. You basically lived at the hospital, but it was an amazing experience."
After completing his residency and fellowship training, Vogel began practicing with BayCare Clinic Emergency Physicians in 2001.
"What I like about the ER is that you get immediate feedback and instant gratification," Vogel says.
Vogel is empathetic toward his patients.
"There are patients along the way where they get into situations or injuries and you realize they're no different than you. It helps to have that empathy and put yourself in someone else's shoes and understand that it's not their fault that this happened to them."
Being understanding makes 'the whole treatment experience better for the patient,' Vogel says.
Away from the office, it's not uncommon to find Vogel running.
"I've run a number of marathons and ultra-marathons. I run because it's kind of a mental break from what I do."
And when Vogel isn't running, he often can be found snowshoeing, cross-country skiing and downhill skiing with his family during the winter months.
In addition, Vogel volunteers for medical mission trips through The Friends of Haiti, a non-profit organization based in Green Bay, Wisconsin, that serves the people of Haiti by providing medical, dental, development and educational services.
Volunteering for The Friends of Haiti is a Vogel family affair.
"This is actually something that the whole family has been involved with including my wife and children, along with my parents, my aunt, my sisters and nieces and nephews."
The experience is fulfilling, Vogel says.
"We set up a clinic and we see roughly 300-400 patients a day probably and they come in with all sorts of medical problems. A lot of it is chronic medical problems that have been left untreated. It's kind of fun because you go out there and you're up in these mountains and you treat, you eat, and you care for the patient all in a one-room little church."
Whether Vogel's treating patients across the world or in Wisconsin, providing expert care remains his No. 1 priority.