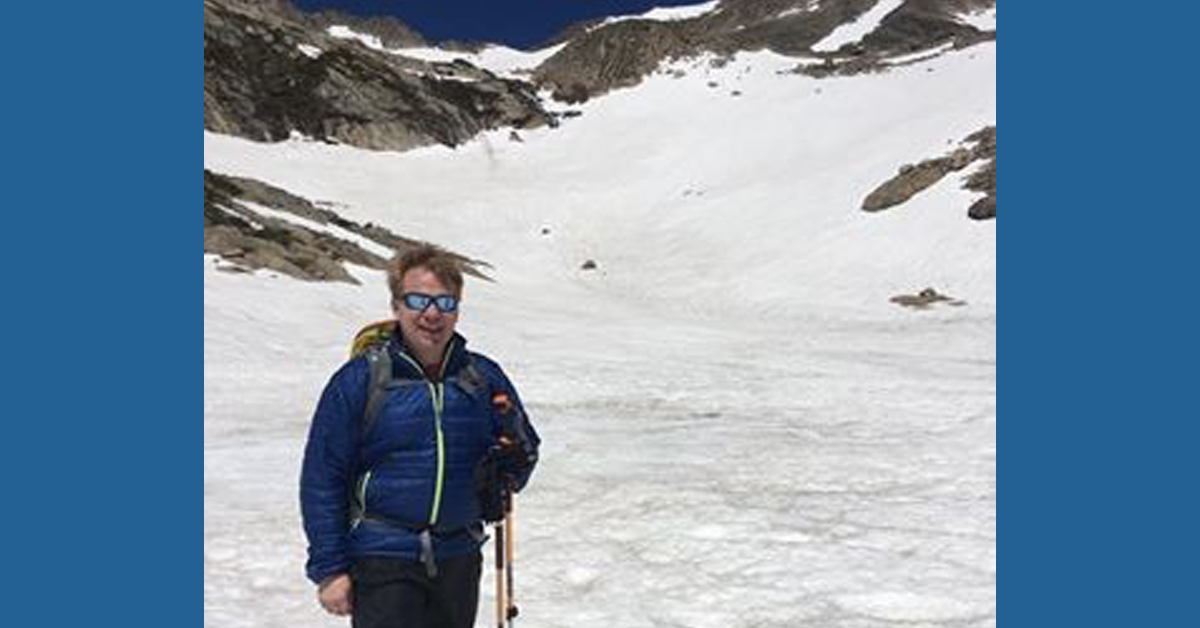 There was a time when Dr. Richard Harrison thought he would be flying amongst the clouds, observing the world from thousands of feet above ground. That dream quickly evaporated, however, much like the clouds he thought he'd routinely fly through.
"I wanted to be a pilot," Harrison says. "I wanted to fly F-14s. This was before Top Gun."
The F-14 Tomcat was a U.S. Navy fighter jet. Known for its distinct twin tails, the supersonic jet was discontinued in 2006.
"I wanted to be an aircraft carrier pilot. I wanted to do that ever since I was a child. I always liked flying. I always liked airplanes. I was kind of fascinated with it."
Harrison, a Texas native, even received a nomination from a congressman to join the United States Naval Academy, he says.
He was certain of attaining his childhood dream. Then, that dream became a nightmare.
"I went for my physical and one of my eyes was 20/25, so I couldn't become a pilot," Harrison says. "For a pilot, you had to have uncorrected 20/20 vision. If you were 20/25 or worse, you couldn't do it. My vision was quite good but it's not perfect without glasses."
With his dream coming to a screeching halt, Harrison decided to study engineering at the University of Texas.
"I started out in engineering but then I went to the oil fields to make money and to get some experience as an oil field roughneck on an offshore rig," Harrison says.
Oil field roughnecks – a slang term for those who work on an oil rig or in an oil field doing manual labor – range from unskilled to highly skilled workers, depending on the position, experience and ability of the individual.
"I decided that that's not what I wanted to do," Harrison says. He worked on an offshore oil rig for almost two years before calling it quits.
He returned home and mowed lawns for extra cash. A physician and a surgeon were among his clients. In casual, individual conversations with each, both medical experts encouraged Harrison to consider pursuing a career in medicine.
Inspired by the conversations, Harrison studied pre-med, eventually earning his undergraduate degree from Texas Tech University. He then attended medical school at Texas Tech University Health Sciences Center School of Medicine.
In his third year in medical school, Harrison was inspired by a neurosurgeon to pursue neurosurgery as a career.
"I liked the neuroscience aspect of it because I thought that was an up and coming thing in process and development and I like the procedural aspect of surgery," Harrison says. "So, I was able to combine both of those. I like the craft of doing surgery and the intellectual exercise of figuring out neurological diseases and such. You combine all of those together and you get neurosurgery."
Harrison had found his niche.
He completed his neurological surgery residency at Loyola University, Chicago, Illinois, and a fellowship in skull base surgery at the National Hospital for Neurology and Neurosurgery in London, England.
Harrison, a board-certified neurosurgeon, has been with BayCare Clinic since its inception in 1999 and has practiced general neurosurgery in Green Bay since 1996. He has a special interest in disc replacement surgery.
As an active member of the American Association of Neurological Surgeons, he has presented on spine and brain surgery topics at various national meetings. He also is a member of the Brown County Medical Society, Wisconsin Medical Society and the Congress of Neurological Surgeons.
Harrison sees patients in Green Bay, Wisconsin, and in Escanaba, Michigan. He values the relationships – and the partnerships – he has with his patients.
"You want to involve them in the decision-making process and make sure they have a good appreciation for what their problem is and make sure they have realistic expectations and make sure that they are comfortable with the decisions that we're both making together and then strive to do the best you can for them."
When he isn't seeing patients, Harrison likes to back country ski and spend time with his wife, son and daughter. Although he never achieved his dream of flying an F-14 for the Navy, Harrison did learn to fly. He owns and flies an Eclipse, a small jet aircraft.