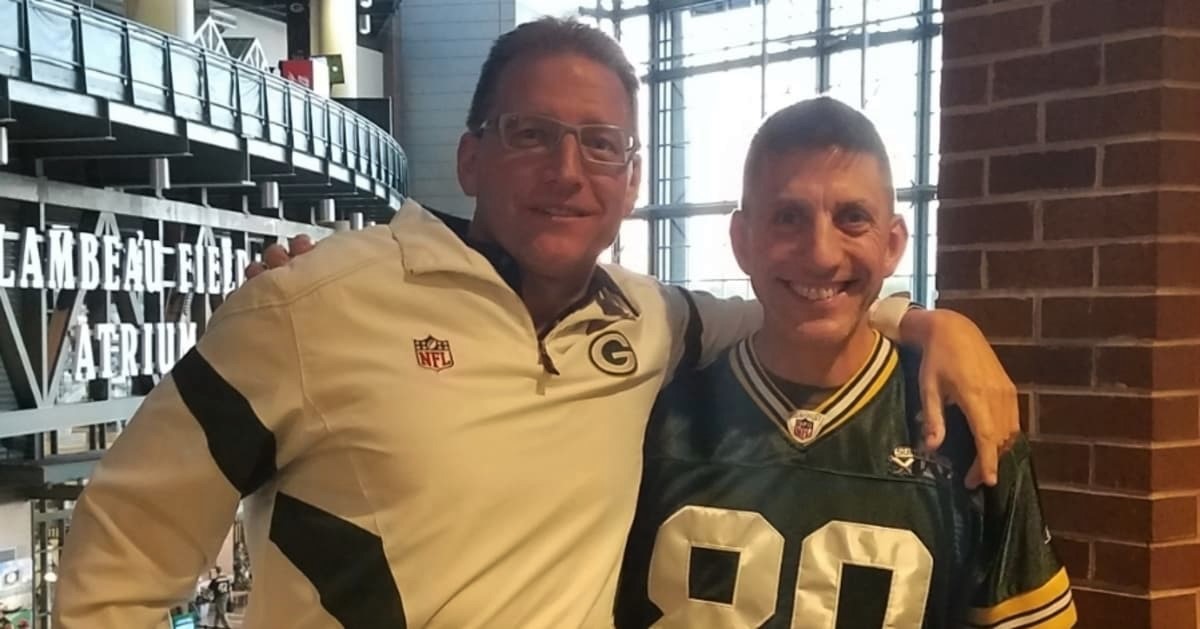 From left: Dr. Scott Weslow and pal, Dr. William Witmer, enjoy a moment at Lambeau Field in Green Bay.
Dr. Scott Weslow grew up in a family of plumbers. It was only natural he would pursue a similar vocation.
"I grew up plumbing on all of my summer and Christmas vacations," Weslow says. "My dad was a plumber. I have two uncles that are plumbers and I have two brothers that are plumbers. The joke is that I'm a plumber too, but I just clean out arteries instead of pipes."
Weslow is an interventional cardiologist with Aurora BayCare Cardiology in Green Bay, Wisconsin. The first-generation college student earned his medical degree from New York Medical College and completed his residency at Cleveland Clinic.
He also trained on the West Coast where he was part of a team that conducted research for Fusion Medical Technologies. That research focused on developing a hemostatic agent to stop bleeding during surgery.
"It was a really unique position I had out there, I was a scientist," Weslow says. "There's a product that we use here now in the operating room called Floseal. That's an agent to stop bleeding. It's used around the whole country now. That's what I was working on in developing out there. We were in the very early stages of the scientific investigation into it. I left for med school before it was finished."
Weslow also began honing his surgical skills while out West.
"I put cows on cardiopulmonary bypass to test oxygenators. I did carotid endarterectomies on goats. I took spleens out of rabbits and I did lung lobectomies on pigs," he says. "Pig lungs and hearts are very similar to humans. That's why we use pig valves for valve replacements, sometimes. Pig heart and lung anatomy is great to work on for human research."
Whether it's been in an operating theater or out on a plumbing job, Weslow says he's never been afraid to get his hands dirty.
"One interesting story is that I had a six-month block of time after I graduated med school before my residency at Cleveland Clinic started. I had six months to do nothing," he says. "Well, obviously I couldn't sit around for six months, I needed money. I went back to my dad's plumbing company for six months but at that point I had my MD.
"My brother was the foreman of the job. I would be down digging in this muddy ditch with a couple of guys and my brother was standing up on the ground, talking to the other foreman, and my brother said, 'you see that guy down there, that guy's a doctor.' He couldn't get this guy to believe him. It became a joke on the job."
Looking back on his years of medical experience and training, Weslow says specializing in interventional cardiology was a perfect career decision. He performs surgical procedures and builds long-term relationships with his patients, something he relishes.
"If you go into surgery, you don't get a lot of long-term patient relationships. You do the surgery and then you see them one time post-op clinic, and then you say 'see ya later,'" he says. "I knew I wanted to do something procedural but I also wanted that long-term doctor patient bond. So, with interventional cardiology I could be doing the procedures. I'm inside people's hearts fixing blockages, treating heart attacks and then I follow them for the rest of their lives."
That long-term, doctor-patient bond is important, Weslow says.
"To me the best feeling I have is when a patient has a heart attack and I do a procedure. And I … go into the waiting room and talk to that family. Just seeing the emotion and relief that all comes there, just to be part of that emotional moment with them, I think that's probably my favorite part."
Weslow, a devout Catholic, is so invested in his doctor-patient relationships that he keeps his patients in his prayers.
"One thing my patients don't know is that I pray for them before procedures," he says. "I say a little prayer every time."
Weslow is a Green Bay native. He enjoys hunting, spending quality time with his wife and three children and cheering for the Green Bay Packers.