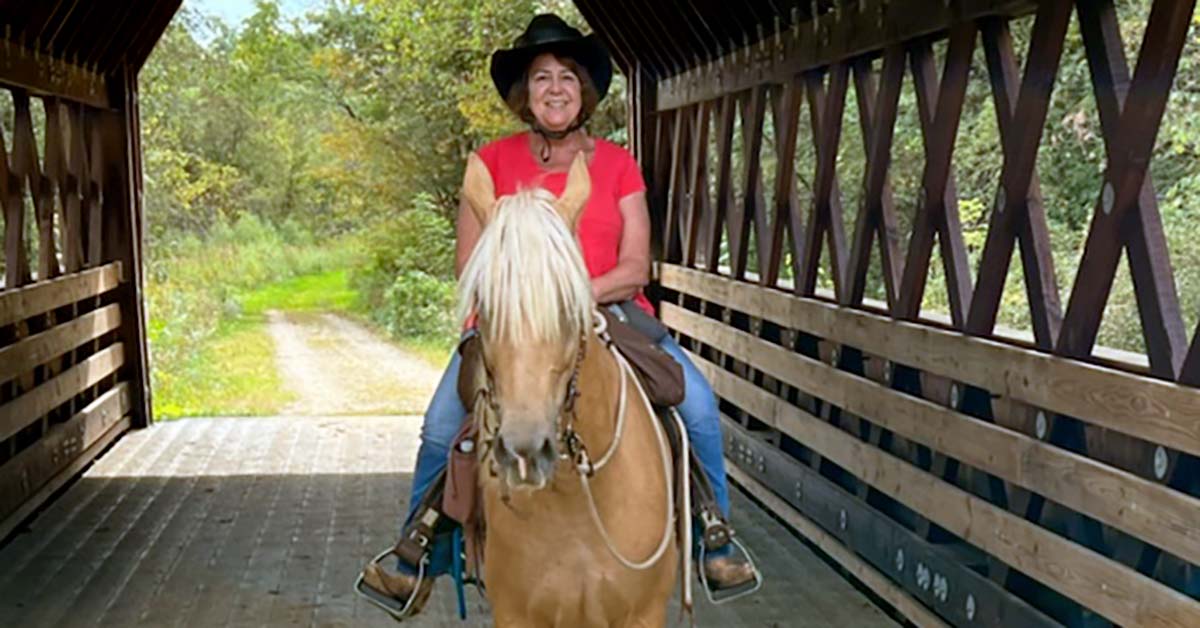 In the fall of 2022, Patti Warmenhoven felt like her atrial fibrillation (AFib) kicked into high gear after she contracted Covid-19. She was feeling tired all the time, had difficulty breathing and struggled to make it up small flights of stairs without feeling winded. Shortly after that, she was helping a family member during a trip to the ER and felt so winded that she feared ending up in the ER herself. That was Patti's wakeup call. She made an appointment to see her doctor.
AFib implant offers an alternative to blood thinner medications
AFib is an irregular heartbeat that can cause poor blood flow and increase the risk of blood clots, stroke, or other heart complications. Since Patti's diagnosis in 2014, she had been treating her condition in a traditional manner. Beta blockers helped to restore her heart's normal rhythm and blood thinners prevented blood clots. But Patti had feared being on a blood thinner would cause her to have a large, uncontrolled bleeding episode if she were to have an accident while riding her horse. While most of Patti's riding was easygoing, accidents can happen. If she or her horse were to fall, Patti worried about internal bleeding and being far from hospitals on horse camping trips.
However, she'd seen ads for a device called the WATCHMAN that promised AFib patients they could leave blood thinners behind.
Patti specifically asked her doctor whether she was a candidate for a WATCHMAN implant. The device, which is implanted in the heart, reduces the risk of blood clots from the left atrial appendage entering the bloodstream and causing a stroke in AFib patients.
LAAO procedure to implant WATCHMAN device
Patti's doctor referred her to Dr. Kristopher J. Selke, an interventional cardiologist and structural heart specialist with Aurora BayCare Cardiology in Green Bay. He determined that Patti was a good candidate for the WATCHMAN device. In April 2023, Selke performed a left atrial appendage occlusion procedure (LAAO) to give Patti her WATCHMAN.
"I felt very comfortable, I did not feel nervous in the least," Patti says. She attributes her confidence going into surgery to the simplified explanation Selke and his team gave her before the procedure.
Patti's surgery went well, and, after a few weeks of minimal restrictions, she was back on her horse. A few months later, in July 2023, she and a friend were camping with their horses when Patti tripped and fell. She hit her head and was bleeding a bit, but Patti knew she'd be OK.
"The first thing I said was, 'I'm really glad I have the WATCHMAN!' because at least I knew the blood was going to stop fairly soon. I didn't have that same worry about bleeding out. It was just a normal bleeding episode."
"Better lifestyle" after AFib implant
Patti says she feels more energetic and the WATCHMAN makes her feel more confident in her health. Selke told her that getting the device at age 66 was a better investment in her health than waiting until she was 76.
"It gives me the opportunity to have a better lifestyle for a longer period of time because I got it earlier," she said.
Now, Patti is encouraging her brother to consider getting the WATCHMAN or a similar device to help him manage his AFib while encouraging others to advocate for their own health as well.