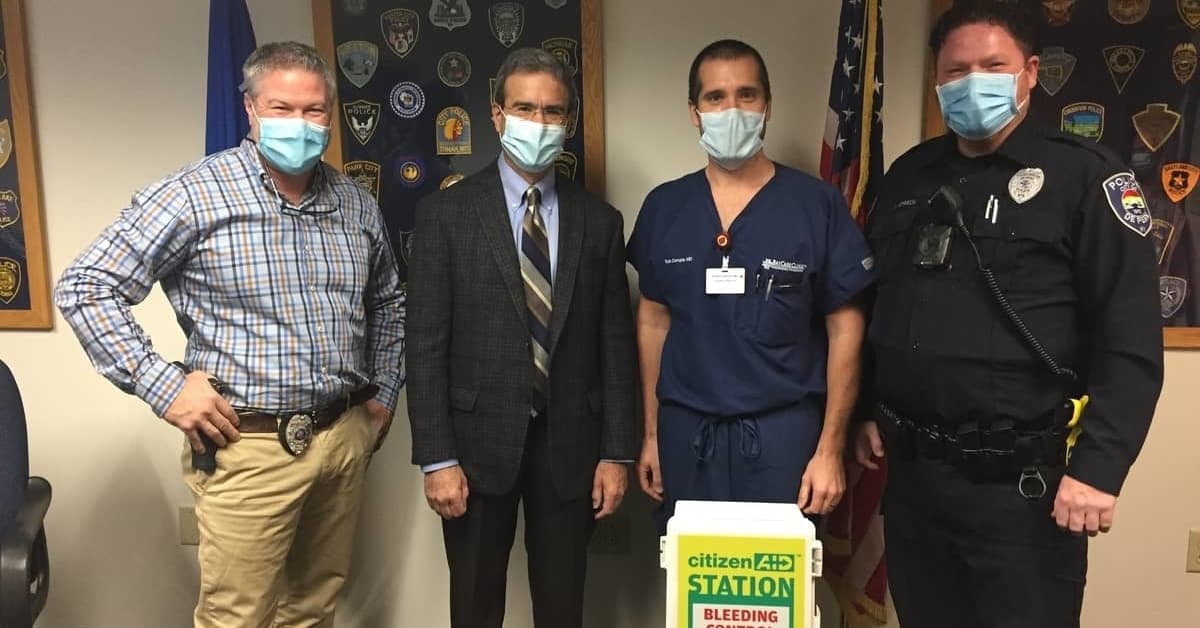 A grant from the BayCare Clinic Foundation has helped purchase six Stop the Bleed kits for the De Pere Police Department.
The bright green-and-yellow bleed control kits contain medical supplies – bandages, gauze, tourniquets, gloves and scissors – for first responders or community members to use in a critical incident where many people are injured. The kits come from citizenAID, a public health initiative.
"We are proud to be able help first responders in our local communities be better prepared to respond to any potential mass casualty incidents," says Dr. Michael Medich, a BayCare Clinic Foundation board member. "These are life-saving appliances that can be used by first responders and good Samaritans alike."
In January, the BayCare Clinic Foundation provided funds toward the purchase of 16 similar kits for the Resch Center in Ashwaubenon. The Resch Center is a venue for concerts and other events that draw large crowds.
"It's important for us to continue to provide the support our first responders need to perform their life-saving measures in the field, especially when they very quickly may be overwhelmed as in the case of a potential mass casualty event," says Dr. Joseph Hodgson, president of the BayCare Clinic Foundation. "We are pleased to be able to provide a portion of that support with the purchase of these bleed control kits."
Dr. Bob Zemple, an emergency medicine physician with BayCare Clinic, often works collaboratively in a teaching and training role with area first responders.
"These kits can be used during any type of life-threatening bleeding," Zemple said. "They aren't solely for use during a mass-casualty incident. It's another safeguard against a preventable death from bleeding. We are happy to be able to provide that safety net for our first responder partners."