Not long ago, the thought of stepping on a scale filled Brad Christenson with fear. That's because he weighed more than 400 pounds and was at a loss for how to shed the excess weight.
Something else filled his heart with even more dread than the numbers on the scale – the thought of not being physically able to raise his three young children.
"I could tell I was getting heavy and I was scared to step on a scale," says Brad, who lives in Appleton. "I knew I was big, but I didn't want to know how big I was."
There was no hiding from his weight. He felt the physical effects in almost everything he did, especially when it came to his back.
"I would get winded going up the steps. Carrying my kids was a struggle," Brad recalls. "Some day-to-day things like trying to bend over to pick up a toy or anything like that and you throw your back out because you've got all that excess weight in the front of you.
"You realize one day that you need to do something but you're not sure what after you've tried so many different diets."
That was especially evident when Brad's weight began to interfere with the quality of time spent with his children.
"With the running around with the kids you get winded, you're not feeling good and then by the end of the day you're like, wow, that was a good day but now I'm like, beat and I shouldn't be this beat after just one day of playing outside with the kids," he says.
Brad needed a long-term solution. A potential answer lay in bariatric or weight-loss surgery.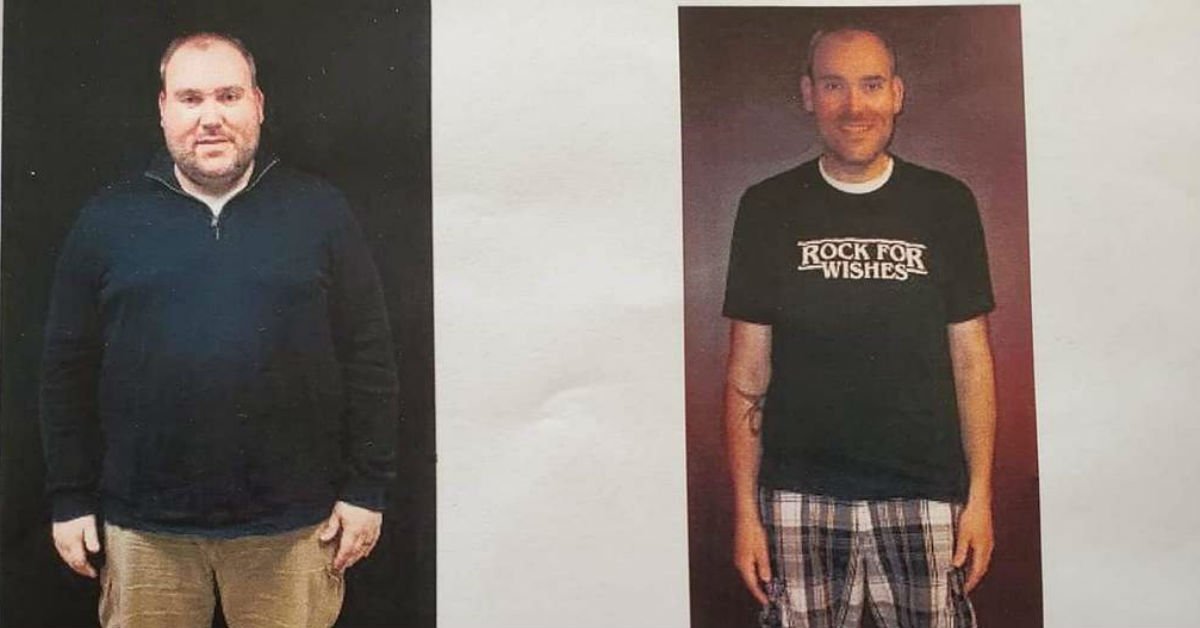 "We went to a seminar (at Aurora BayCare Medical Center) a year in advance just to check it out to see. It was intriguing, and then I'm like, 'I'm gonna really focus this year, I'm gonna work out, I'm gonna eat better … ."
It lasted two months, he says.
"At that point we had our last child, Lilly, in November of 2017 and just looking at the photos of me holding her was enough to go, 'dude, you need to do something and maybe this bariatric thing is something that we should look at again when the new year starts.'"
It took some time, but eventually Brad acted.
He underwent gastric sleeve resection surgery in June of 2018. The surgery was performed by Dr. Daniel McKenna, a bariatric surgeon with Aurora BayCare. The procedure removes about three-quarters of the stomach. The remainder is turned into a long, narrow, stapled tube about the size of a banana.
Patients feel full after eating small amounts of food. A smaller stomach limits the amount of food that can be digested at one time. As patients take in fewer calories, their bodies adjust and burn stored fat for energy, resulting in constant, consistent weight loss.
The surgery was a success. Brad lost 180 pounds – and his fear of stepping on a scale.
"My health now is unbelievable. My blood pressure is right where it needs to be. My cholesterol, everything is right where it needs to be," he says. "I feel like overall I can do more, I don't get winded running around, I don't get winded going up the steps," he says. "Day-to-day with the kids is so much easier with all that weight off.
"Life for me after surgery is just phenomenal, that's all I can say. I feel better. I feel like I can do so much more with the kids, with my wife, with my family … It's so much easier to do things than it was beforehand."