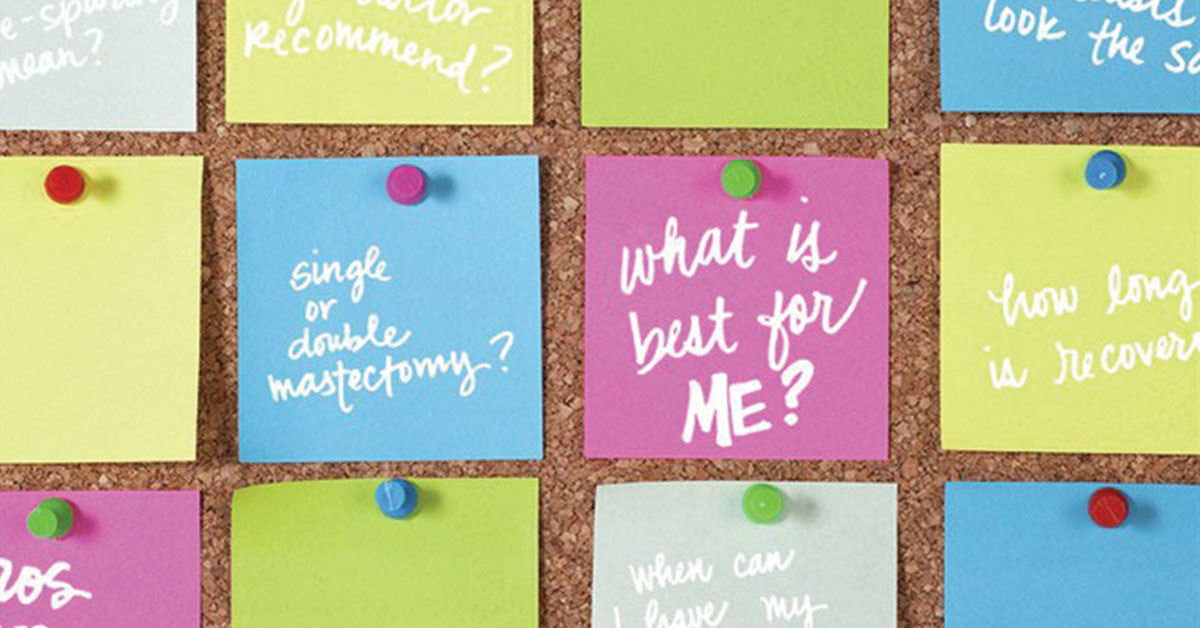 It's estimated that there will be 231,840 new cases of invasive breast cancer in 2015.
When a patient is diagnosed with breast cancer, the next step is usually surgery. It can seem scary and overwhelming, especially when the diagnosis is fresh.
It's important for patients to take time to think about which option is best for them. They should discuss each option with their physician and ask which procedure is recommended and why.
We will go over the options below.
Lumpectomy
A lumpectomy surgically removes the cancerous tissue or "lump" from the breast. Usually an outline of tissue around the cancerous cells is also removed to ensure all abnormal cells are eliminated. This is a common treatment with patients with less-invasive breast cancer. However, every patient is different.
Mastectomy
A mastectomy surgically removes the entire breast while the patient is under general anesthesia; usually the lymph nodes in the underarm are removed as well. During most surgeries, the chest wall muscles are not removed, although in a radical mastectomy, those muscles are removed.
Nipple-sparing mastectomy – This procedure removes all the breast tissue but the nipple and a portion of skin is left.
Double mastectomy – A double mastectomy surgically removes both breasts simultaneously.
Breast reconstruction
Breast reconstruction is an important step of recovery for women going through breast cancer treatments and it can be done during or after mastectomy. This restoration has significant emotional and psychological benefits for the patient.
There are a few different types of breast reconstruction; the procedure can be done with breast implants, natural tissue flaps, or a combination of both. There are pros and cons to all approaches and patients should decide what is important to them. Review the different methods here.
Even if a woman has a single mastectomy, a plastic surgeon can perform a symmetry procedure to ensure the breasts have a more proportioned appearance.
You're not alone. The decision to have surgery, and which one, is a significant one. Compile a team of doctors and family to plan how to move forward.