Felicia Hennessy has been active her entire life.
Hiking? Check. Swimming? That, too. Skiing? For sure. Even downhill skiing? Most definitely.
But when pain in her left knee slowly began making physical activity more burdensome than enjoyable, she sought out Dr. Carl A. DiRaimondo, an orthopedic surgeon with Orthopedics & Sports Medicine BayCare Clinic in Manitowoc.
"I am a 67-year-old woman," Hennessy says. "I've been active my whole life, you know? Even when I was in my mid-30s, my knees were probably my weakest link. … They started letting me know they were there."
She explains further.
"I remember driving for 10 hours straight – that's a whole other story – and my knee ached afterwards. I was like, 'OK, that's weird.'"
Fast forward to her early 60s.
The left knee pain was consistently bothersome. She endured it for so long that her right knee began to ache as well.
"I was compensating, you know, just kind of walking funny," says Hennessy, who lives in the Valders area.
"It got to the point where it was annoying enough that I thought, 'OK, I should see somebody,'" she says.
That's when she contacted DiRaimondo. He took a conservative approach to treating her knee pain. It worked for a while.
"I got a cortisone shot in both knees and you know, actually, that did the trick for maybe six months or so," Hennessy says. "Then the left knee starts hurting again and I go back for another shot and it works for a little … rinse, repeat."
Other conservative measures included administering hyaluronic acid, which can serve as a lubricant in the joints.
After more than a year of conservative measures, Hennessy was ready for a more permanent solution, particularly after experiencing physical difficulties during a camping trip.
"We tent camp and so I literally was dreading having to wake up in the middle of the night and limp to the bathroom," she says. "I'm sitting here going, 'Hmm, this is painful.' I couldn't hike with my grandkids and the rest of the family. I had a walking stick and I was leaning on it heavily. I was just literally in pain and it actually was stopping me from doing what I wanted to do."
Time for a new knee.
Hennessy went back to DiRaimondo, who recommended a total left knee arthroplasty, or replacement. The procedure removes all parts of the knee affected by osteoarthritis and replaces them with durable prosthetic components made of metal and plastic.
Hennessy knew she'd be in good hands with DiRaimondo.
"He takes a lot of time to talk to you," she says. "We talked about different types of surgery, you know … he took plenty of time to explain that to me. He's very sympathetic to what your goals are.
"When you tell him what your goals are, he very much wants to work with you to achieve those goals, whatever they are. From day one, I really liked the office, Dr. DiRaimondo's willingness to talk to you, all of his assistants, (physician assistant) Maggie (Fuhrman) I remember specifically … everybody in the office is very knowledgeable, very helpful and very sympathetic … very kind."
Plus, DiRaimondo was strongly recommended by friends who'd had positive surgical outcomes with him. "Multiple personal recommendations," Hennessy says.
Eventually, she underwent knee surgery. It was as she imagined.
"I had made this decision so of course I was nervous but I wasn't fearful," she says. "I had great confidence in the doctor, the hospital and in myself."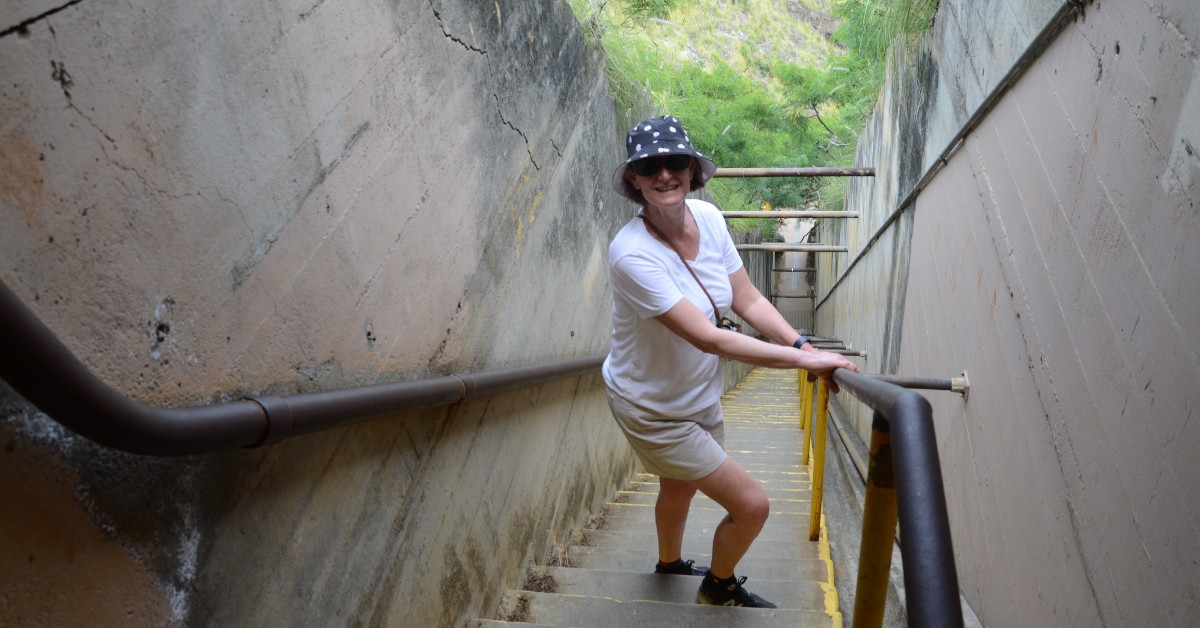 Surgery was a success.
After faithfully following her physical therapy instructions, Hennessy was again enjoying many of the physical activities she loves. Less than three months after surgery, she was hiking at the Diamond Head State Monument in Hawaii, near the eastern edge of Waikiki's coastline.
Hennessy offers a glowing recommendation for DiRaimondo and his surgical team.
"I was just super pleased to have him as my orthopedic surgeon," she says. "From day one, he was kind, understanding, knowledgeable, took the time to explain things to me and then when it was time for the surgery, I had an excellent experience and I absolutely love my new knee."
She also has a bit of advice for those debating whether to seek a medical expert's aid for relentless knee pain.
"If you're on the fence, I really, really believe sooner is better than later," she says.