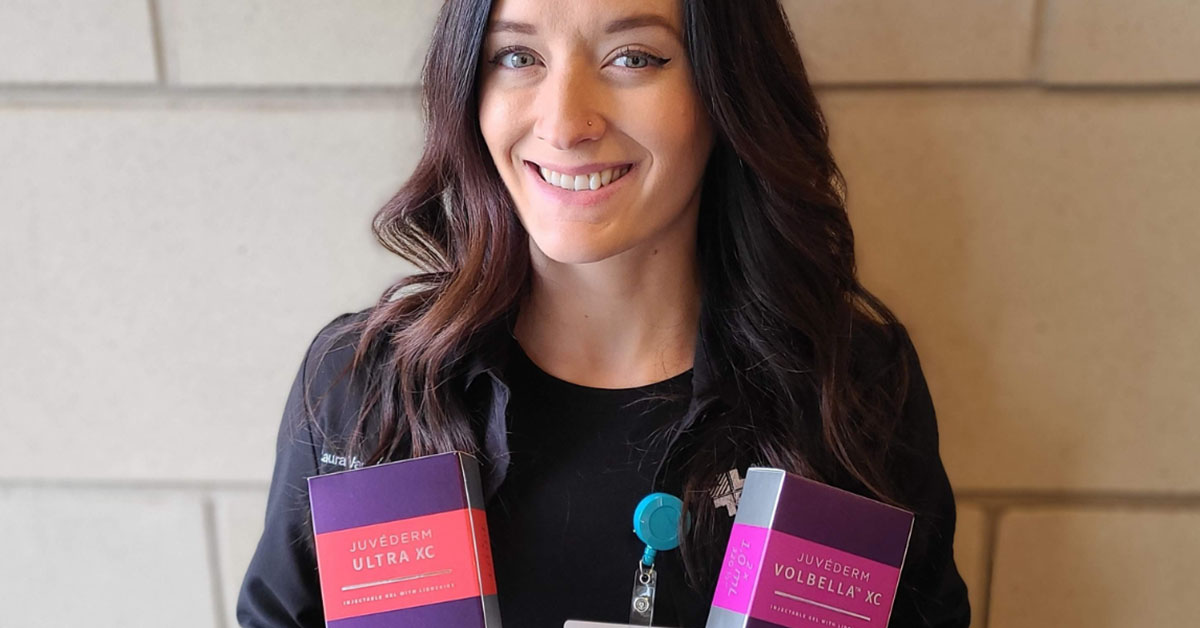 What is Juvéderm?
JUVÉDERM® is an FDA-approved nonsurgical filler that produces an increased fullness in the lips and softens the appearance of laugh lines. The results are immediate with little to no down time.
The main ingredient in Juvéderm fillers is a modified form of hyaluronic acid, a sugar naturally produced by the body that retains moisture in the skin.
"I think it's always helpful to know that it's a hyaluronic acid-based gel that we're putting in, and hyaluronic acid is found in our skin, eyes and joints, so it's a very natural product," says Laura VanderKelen, a nurse injector at Plastic Surgery & Skin Specialists by BayCare Clinic. "We're putting something in that our skin loves, and it's water-loving, so it will help hydrate the face."
VanderKelen has a deep understanding of facial anatomy and works closely with fellowship-trained plastic surgeons Dr. Karri Adamson, Dr. W. Jeffrey Dierberg, Dr. Elizabeth O'Connor and Dr. Steven Schmidt. 
For fuller lips, our aesthetic services team offers JUVÉDERM® VOLBELLA® XC and JUVÉDERM® Ultra XC. Results last up to one year with optimal treatment.
Juvéderm Volbella is a crystal-clear gel injected directly into and around the lips using an ultra-fine needle to temporarily plump the lips for a subtle, natural look and to smooth the appearance of perioral lines (lines around the mouth), often called lipstick lines, vertical lip lines, or lip wrinkles. Similarly, Juvéderm Ultra is an injectable gel that temporarily adds more fullness in thin lips for a plump and more noticeable result.
Is it painful?
"Almost every patient is nervous about the pain of the procedure," Laura says. "I just try to reassure them that we're going to numb them; we're going to give them topical numbing to help with pain. I am a slow injector. I take my time. I get an hour and a half with every filler patient, so that really gives me the opportunity to make them feel comfortable."
With both options, the lidocaine in the gel improves the comfort of the injection by reducing sensitivity to pain. Juvéderm injectable gels labeled with "XC" contain pain-reducing lidocaine to help manage pain or discomfort during the injection. Filler patients also receive an ice pack before they leave.
Laura's after-care tips:
Avoid intense exercise for at least 24 to 48 hours depending on how you're feeling. Intense sweating will bring blood to the face and can worsen swelling or bruising.
Ice for one to two days after treatment for at least two to three times a day.
Allow at least two weeks before a public event to allow swelling and bruising to subside so you can look your best.
Before the procedure, Laura will meet with patients to go over the consent process, answer questions and review their goals. Be prepared to discuss your aesthetic areas of concern. This is not a surgical treatment. Actual treatment with Juvéderm injectable gels can take 15 minutes to 60 minutes, depending on which area of your face is being treated.